News story
UK condemns attack on French Embassy in Tripoli
UK looks to Libyan government to ensure those responsible for this morning's attack on French Embassy in Libya are brought to justice.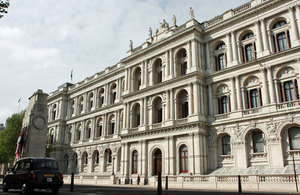 Speaking after today's attack, a Foreign Office spokesperson said:
The UK strongly condemns the attack this morning on the French embassy in Tripoli. Our thoughts are with all those who have been injured, including our French colleagues, and we have offered the French Embassy any assistance that we can provide. No British member of staff was involved in the incident and all staff are safe and accounted for.
We welcome the Libyan Government's condemnation of this attack and look to them to ensure that those responsible are brought to justice and that the security of all diplomatic missions is maintained. It is also a reminder of the continuing need to achieve stability in all parts of Libya so that its people can have a safer, more peaceful and prosperous future. The UK will continue to do everything we can to support the Libyan authorities and people in dealing with these challenges.
Further information
Follow the Foreign Office on twitter @foreignoffice
Published 23 April 2013