UK concerned by decision to extend sentence of Palestinian human rights defender
A Foreign Office Spokesperson today expressed concern about the decision to extend the sentence of Palestinian human rights defender, Abu Rahma, and its impact on non-violent protest.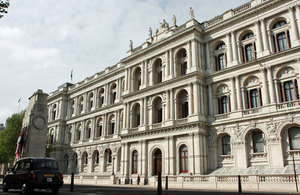 "We are concerned by the Israeli military court's decision to extend Abdallah Abu Rahma's sentence on charges of incitement and organising and participating in demonstrations to 16 months.
British Diplomats, including the Consul General Sir Vincent Fean, as well as diplomats from other EU Member states have continued to attend all hearings in Abu Rahma's case. In 2007 the Israeli Supreme Court ruled that the security barrier in Abdallah's village of Bi'lin must be rerouted, this order has not yet been implemented by the Israeli Authorities.
We remain concerned that his extended sentence is intended to prevent Abdallah and other Palestinians from exercising their right to non violent protest against the annexation of Palestinian land to Israel".
Published 14 January 2011