Press release
UK competition launched to find 2023 European Capital of Culture
A nationwide competition to find the 2023 European Capital of Culture has been launched today.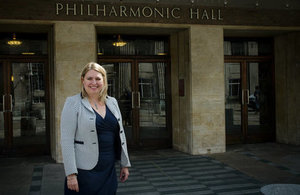 The UK has previously hosted the European Capital of Culture twice, in Glasgow 1990 and Liverpool 2008.
The European Capital of Culture can bring increased investment to the winning city, creating jobs and boosting the local economy.
The European Capital of Culture title also raises the profile of the host city and attracts more tourists to the area.
Two cities from two European countries hosts the title each year. A city from Hungary will be the other European Capital of Culture during 2023.
Culture Secretary Karen Bradley said:
This Government is committed to building an economy that works for everyone, so all parts of the United Kingdom can benefit from economic growth and prosperity.
Celebrating the cultural heritage and innovation in Britain's cities is part of our plan for an outward-looking, globally-minded and dynamic country.
The United Kingdom is leaving the European Union, but we are not leaving Europe. We want that relationship to reflect the kind of mature, cooperative relationship that close friends and allies enjoy.
Notes to Editors
DCMS is responsible for running the European Capital of Culture competition process for the UK competition.
A cross-EU panel of experts will select the winning UK city to hold the ECoC title.
The competition process has two selection phases and lasts two years.
The winning UK city will be announced by the end of 2018.
Published 16 December 2016