World news story
Calling UK Companies to exhibit during FIHAV 2014 as part of UK Pavilion
FIHAV has become the most important exhibition gathering in Cuba for companies doing or willing to do business in the island.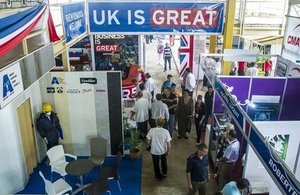 The Havana International Fair is a multi-sector commercial fair and the main topics exhibited in are: Consumer Goods, Machinery, Equipment, Technology, Raw Materials, and Services. It is also the best scenario to display products and services, to meet and hold meetings with key importers, and to launch new products.
The UK Trade and Investment Team from the British Embassy in Havana is organising the British presence at the Havana International Fair 2014. We have pre-booked the UK area , which would be located at Mezzanine on Pavilion 10 (114 square metres)
We are planning several activities and we will be running seminars and other events (reception, product showcasing, etc.) during the fair at the request of different companies.
Companies interested in having their stand at this important event should contact us as soon as possible. Deadline for registration is 15th September.
Should you be interested in becoming an exhibitor please contact : alina.niebla@fco.gov.uk Application form for registration here: Application form (PDF, 73.4KB, 3 pages)
Published 19 August 2014