World news story
UK companies explore business opportunities in Kazakhstan
Investment roadshow helps UK companies find out about export opportunities in Kazakhstan's priority sectors.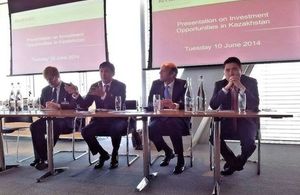 A delegation of Kazakh state and private companies and over 100 UK companies took part in the Kazakhstan Investment Opportunities Roadshow.
The roadshow was held in London on 10 June 2014. The event was organised by:
Opportunities
The roadshow outlined the investment opportunities in Kazakhstan's priority sectors:
energy
mechanical engineering
mining
transport
logistics
tourism
Roadshow
The roadshow was opened by:
Mr Erlan Sagadiyev, Vice Minister of Industry and New Technologies of Kazakhstan
Sir David Wootton, co-chair of Kazakh British Trade and Industry Council
There was discussion about Kazakhstan's:
investment climate
state programmes
investment incentives for foreign investors
market opportunities
development of commercial co-operation
Memorandum of Understanding (MoU)
An MoU was signed between KAZNEX Invest and UKTI during the roadshow. This MoU will help to further develop commercial ties between the 2 countries.
Contacts
Contact UKTI Kazakhstan to find out how to grow your business in Kazakhstan.
Published 4 July 2014