World news story
UK CIVIL SERVICE COLLEGE SUPPORTS TCI PUBLIC SERVICE LEADERS
From:

Part of:

Published:

26 May 2015
TCI public service leaders will attend a leadership and development programme delivered by the UK Civil Service College from 26-28 May 2015.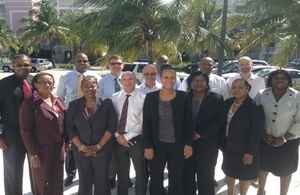 The Deputy Governor, Permanent Secretaries and other senior officials will take part in the event, which is funded by the Governor's Office Technical Assistance Programme. The course is designed to provide guidance and support to the professional development of the TCI public service.
"We are bringing some of the world's very best training for public servants to the TCI, thanks to the UK Civil Service College," said Anya Williams, Deputy Governor and head of the TCI civil service.
"The aim of the training is to support senior leaders' leadership and development and help them to acquire or develop essential knowledge and skills to enhance their effectiveness in supporting the processes of government and good governance."
The three-day training programme is designed to help participants to:
Support the processes and principles of good government and good governance and to contribute to well-founded and effective policy and decision-making;
Take a more strategic view in relation to planning, organisational development and resource management and the achievement of key outcomes and priorities;
Translate what they have learned into effective leadership and actions that are practicable and achievable in their own context.
Pat Noonan, Director of the Technical Assistance Programme, in the Governor's Office added, "The Technical Assistance Programme has provided support to Immigration & Border Control and Customs and continues to provide support in many areas including Public Financial Management, EU Funding and Refinancing."