World news story
UK cities pioneering smart cities evolution in China
Today sees the launch of two smart city initiatives in Wuhan funded with support from the China Prosperity Strategic Programme Fund (SPF).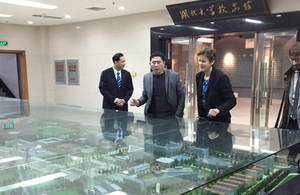 This Strategic Programme Fund (SPF) funded year long study set out a series of recommendations to support the development of smart cities in both China and the UK. At the same time a new project identifying how these can be implemented in a practical way has been launched in Wuhan.
Launching the event in Wuhan, Barbara Woodward CMG OBE, British Ambassador to China, said:
The agreements reached during the project, including those between Manchester and Wuhan provide a strong basis for UK and Chinese cities and UK and Chinese companies to combine design, manufacturing and technology expertise to develop efficient, low carbon cities for us all to enjoy living in the near future.
The report into Smart Green Cities identifies a number of key recommendations to be taken up by both the UK and Chinese governments and their respective cities. Included in these recommendations are proposals to look at the development of a data sharing platform, which through new applications, could contribute to greater efficiencies, reduction in carbon emissions and greater satisfaction levels amongst citizens.
A number of smart city solutions are also documented within the report, which were identified during a 'Dragon's Den' event held in Manchester earlier this year. A number of UK based small businesses presented their proposed solutions and technologies for uptake in the Chinese market to a panel of 'dragons' from Manchester and China.
Pioneering this work is Manchester City Council, one of only 15 European cities which are part of the EU China Smart Cities Forum.
Sir Richard Leese, Leader of Manchester City Council said:
Manchester has been strategically linked with Wuhan since 1986. Building these collaborations not only strengthens our long standing relationship, but also provides opportunities for Manchester businesses to compete more effectively on a global stage.
At the same time a new China Prosperity SPF Fund project was launched to support the development of policies around "smart green solutions" which make a city more functional, liveable and sustainable and that strengthen the relationship between cities. An example of this is the design work led by architects at BDP's Manchester and Shanghai studios.
Stephen Gillham, chairman of BDP's Shanghai studio said:
The Qingshan Riverside District is a brand new 2.19 sq km development which will aim to showcase smart city technologies. Learning for this will be taken from Manchester's very own flagship smart area –'Corridor Manchester'.
Clicks and Links are seeking to build on their 3D, visualisation and gamification skills. Vin Sumner, CEO said:
The Manchester - China smart city initiative is providing us an SME with a unique opportunity to promote our capabilities to Chinese Cities who have shown particular interest in our use of games to engage citizens.
Notes to editors
The UK-China Smart Green Cities: Planning and Governance project is a joint initiative funded by the UK Government's Growth and Prosperity Fund involving a number of UK and Chinese partners, led by Manchester City Council. The project's two core aims were to develop a number of policy recommendations for implementation at state and city level as well as introducing UK SMEs into the Chinese smart city market.
Published 27 March 2015