World news story
UK-China workshop on strengthening elderly care workforce in China
A workshop focusing on strengthening elderly care workforce in China was co-hosted by UK and China today (9 April) in Beijing.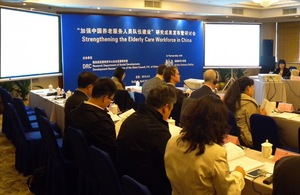 The Development Research Centre of the State Council of China (DRC) today published a series of recommendations on strengthening the elderly care workforce in China. The findings come as the result of a year-long project supported by the British Embassy Beijing and were announced at a workshop co-hosted by the two organisations.
The Research Center for Social Development of the DRC started the project in June 2012 with the support of the British Embassy's Prosperity Fund. Over the past year, the research group has interviewed Chinese government officials, carried out field research in Chongqing, Guangzhou, Hangzhou and Beijing, and held a workshop to share experiences in building an elderly care system from the UK, Japan and Taiwan.
The research team concluded that China's elderly care system has developed rapidly in recent years, but that there has been too much focus on residential care. Much elderly care in developed countries is provided at home and in the community. In addition, nearly 80% of institutional beds are occupied by healthy older people, who live there because they cannot access the right services and recreation opportunities at home. The research group suggests that the expansion of residential care should be postponed, and admission criteria should be developed for care homes to ensure they focus on those most in need of their support.
The research team also made recommendations on strengthening and professionalising the elderly care workforce. They suggested:
providing subsidies for social security and higher salaries for care workers
promoting professional training for care workers, especially on home care and community-based care
establishing qualifications criteria for professional care workers, creating structures for them to be promoted through their careers and ensuring salaries reflect promotion
promoting care workers' social status through awards and public messaging
developing the workforce of elderly care related professionals, for example doctors, nurses, social workers and physiotherapists
gradually opening up the elderly care training and service sector to overseas providers
developing and regulating informal elderly care services
encouraging innovation in elderly care technology to reduce labour forces needs
widening the sources of funding for elderly care
Published 9 April 2013