World news story
UK, China working together in delivering sustainable cities
A seminar focusing on the UK and China's joined up approach in sustainable urban development was held today (2 April 2013).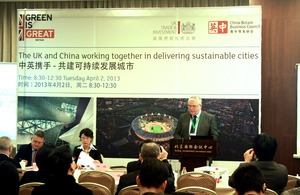 UK Trade & Investment (UKTI) and the China Britain Business Council (CBBC) hosted a seminar titled 'The UK and China Working Together in Delivering Sustainable Cities' in the Beijing International Convention Centre. The seminar was held in parallel with the 9th International Conference on Green and Energy-efficient Building and New Technologies and Products Expo (IGEBC) which takes place from 1 to 3 April.
The seminar focused on the UK and China's joined up approach in sustainable urban development. UKTI, British Embassy Beijing, UK-China Eco-Cities and Green Building Working Group and a number of UK and Chinese companies attended.
At the seminar, UK companies including engineering consultancies, master planners, architects and designers talked about their experiences of working together with Chinese counterparts and their achievements developing and promoting eco-cities and green building concept in China.
Brian Gallagher, Commercial Counsellor and Director of Trade and Investment for China, British Embassy, said:
We are delighted to have a role working in full partnership and friendship with our Chinese counterparts to improve the efficiency and quality of Chinese urbanization. The discussions from our expert and practitioners on the detailed work today, will surely improve the collaborative efforts between the UK and China.
There are many examples where the UK and China have worked together successfully to promote the development of sustainable cities. These include a UK-Ministry of Housing & Urban-Rural Development(MoHURD) Memorandum of Understanding (MoU) on eco-cities and another between the UK and Ministry of Commerce(MofCOM) on the sustainable cities initiative. The Prosperity Fund, a policy collaboration mechanism, also helps promote policy level collaboration between the two countries.
The UK's construction sector has an internationally proven track record in developing innovative, well-designed and world class engineered infrastructure. Build on a long established leadership position in the planning, design, construction and management of low carbon sustainable built solutions, well over a hundred UK companies are providing products and services into the Chinese market.
The partnership between the UK and China to achieve a sustainable built environment is growing at both government and commercial levels, to the mutual benefit of both countries and to the global community.
Published 2 April 2013