World news story
UK-China summit explores collaboration for Made in China 2025 and UK industrial strategy
A landmark Made in China 2025 – UK-themed summit has been held in Shanghai as part of the China International Industry Fair, where the UK is Country of Honour.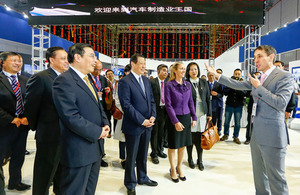 Opened by China's Vice Minister of Industry and Information Technology, Xin Guobin; Shanghai's Vice Mayor Xu Kunlin; and the UK's Minister for Trade and Export Promotion, Rona Fairhead, the summit explored how the UK and China can deepen collaboration for mutual benefit.
Discussions at the summit focused on how the 2 countries can work together to reach their respective goals in the manufacturing sector, in research and development and on flagship initiatives - Made in China 2025 and the UK industrial strategy.
The summit included keynote speeches from Jaguar Land Rover on linking global supply chains and from the Engineering and Physical Sciences Research Council on the strengths of UK manufacturing research.
Speakers included representatives from some of the UK and China's most innovative companies, such as BGT materials – focusing on graphene technology; Xeros – who have developed a new polymer-bead washing technology, Deren Group and Wolong.
There were also panel discussions on expanding the UK-China R&D Offer and financing UK-China manufacturing co-operation.
The UK's Minister for Trade and Export Promotion, Rona Fairhead said:
The UK and China are natural partners when it comes to industrial growth. We see Made in China 2025 as a perfect opportunity for manufacturers from both countries to work together to drive forward our trading relationship.
The UK is working alongside the Chinese government and businesses to showcase the UK's dynamic, diverse and cutting-edge expertise. The UK pavilion at CIIF is exhibiting the very best of the UK across sectors, with CIIF providing a unique platform for Chinese consumers, businesses and investors to connect with UK companies.
Published 7 November 2017