World news story
UK-China programme to address China's agricultural challenges
On 12 March, leading UK & Chinese researchers joined together in Beijing to discuss how to use remote-sensing technology to address global challenges.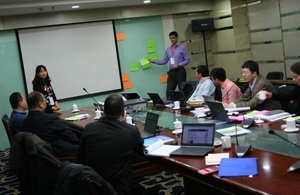 Agricultural science and technology is being increasingly driven by the global challenges of rising populations, rapid development of emerging economies and global shortages of land, water and energy. These challenges are made even more difficult in light of the impact of a changing climate.
The largest UK - China Agri-Tech workshop under UK Science and Technology Facilities Council (STFC) is being held in Beijing between 10 and 12 March, 2015. So far it has brought together over 100 participants including leading UK and Chinese researchers from nearly 50 partner institutions. This STFC-led programme is funded by the UK - China Research and Innovation Partnership Fund, part of the UK's Newton Fund. It is a £12 million initiative over the period of 5 years, to use the UK's expertise in remote sensing, data processing, modeling & simulation in the area of agricultural technology (agri-tech) to work with and aid the Chinese farming community.
This new fund aims to provide real solutions for areas including:
Sustainable intensification
Climate smart farming
Pests and diseases
Precision Agriculture
The Research Councils UK (RCUK) China team, together with the embassy Newton Team and SIN team, have played a key role in facilitating workshop which was organised by the Rutherford Appleton Laboratory (RAL), Beihang University and NERCITA (National Engineering Research Centre for Information Technology in Agriculture).
Dr. Hugh Mortimer, Principle Investigator on the STFC Newton Agri-tech Programme said:
This programme offers an exciting opportunity to develop practical technologies that offer real solutions to the agricultural challenges faced in China. This fund is unique in the fact that we can link academic and industry together to address the global problem of food security, but more importantly, it provides the chance for Chinese and UK researchers to work together to exchange ideas and make closer ties across the cultural and social boundaries.
For more information on the STFC Newton Agri-Tech Fund
Further information
Please email Cerian Foulkes for more information.
RCUK China was established in 2007 to enhance research funding partnerships between the UK and China. We aim to support the best researchers in the UK and China to develop high-quality, high-impact research partnerships.
The UK - China Research and Innovation Partnership Fund, part of the UK's Newton Fund, will strengthen China and the UK's research and innovation partnerships. Launched by UK Prime Minister David Cameron during his visit to China in December 2013, the China partnership has a total value of £200 million over 5 years. Individual projects and applications are managed through programmes awarded under the Newton Fund. Programmes are between Chinese and British institutions or Delivery Partners that are responsible for promoting the calls. The Newton Fund is a £375 million fund over 5 years and is part of the UK's commitment to promote research and innovation initiatives to strengthen social and economic development of emerging countries.
Published 13 March 2015