UK-China firms announce deals as Business Secretary opens trade talks
Business Secretary Vince Cable opened three days of intensive trade talks between the UK and China in Beijing today, as UK and Chinese firms announced deals that will help to cement a partnership for growth between the two countries.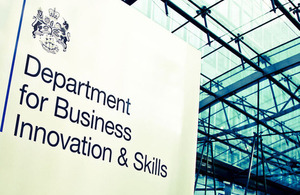 The deals involve Benoy, Clyde Blowers, Eco-Solids, Ultra Electronics, Delcam, Utilise, Tesco, Oleo, NorthgateArinso, Arup, the Aircraft Research Association, Group Rhodes, the International Visual Communications Association, TheAlloy, David Lock Associates and UCL.
Dr. Cable is part of a major British trade delegation that will be holding talks in Beijing this week aimed at boosting trade and investment between the UK and China. He met Chinese Minister of Commerce Chen Deming for Joint Economic Trade Commission talks today.
Tomorrow, Chancellor George Osborne and Deputy Prime Minister Wang Qishan will meet for the Economic and Financial Dialogue after which Prime Minister David Cameron will attend the UK-China summit. On Thursday, there will be a Business Summit.
Speaking ahead of the trade talks, the Business Secretary said:
"These talks take the relationship between the UK and China to a new level. I warmly congratulate those companies which have announced deals today. China is a huge opportunity for UK businesses and I would urge more companies to follow in their footsteps. China is our ninth largest export market, but it is the world's second largest economy and the potential for expanding our partnership is huge."
Deals announced today:
Benoy will be signing three multi-million pound contracts with clients in China. The fee value for Benoy will be over £4 million. They are also opening a headquarters in Beijing.
Clyde Blowers are agreeing with Yima Coal Industry Group to supply coal injection technology for three gasifiers, in a deal worth £2 million.
Eco-Solids of New Milton, near Bournemouth, are finalising their first unit for the stabilisation of sewage sludge into an environmentally safe and stable product for use as an agricultural soil conditioner. This should produce annual licence fee revenues of over £1 million in five years' time.
Ultra Electronics' Airport Systems business ("UAES") of Manchester, has established a joint test and demonstration laboratory in Beijing with TopScientific Systems Inc. ("TopScientifics") with the aim of establishing the industry standard for airport and airline operational IT systems.
Delcam, from Birmingham, is signing a Memorandum of Understanding with First Auto Works worth £500,000 over ten years.
Utilise, from Wigan, is signing a Memorandum of Understanding with Beijing Gas.
Tesco are signing a climate change MOU with the Ministry of Commerce, in line with their commitment to become zero-carbon worldwide by 2050.
Oleo, based near Coventry, are providing products for Guangzhou Metro worth £35,000 in an agreement with Qingdao Si Fang Rolling Stock Research Institute Co. Ltd.
NorthgateArinso in Hemel Hempstead will be measuring the carbon footprint of Wuxi in a deal agreed with the city's mayor.
Arup have agreed to a study of the greenhouse gas emissions of the city masterplan of Beijing with the planning arm of the Beijing Planning Commission.
Group Rhodes are signing a contract with Xinhang, a second tier supplier to the Chinese aerospace industry, worth £1,850,000.
IVCA will be announcing which of their members has been awarded the bid to make a Shanghai promotional film for the Shanghai Municipal Government, worthy between £200,000 and £500,000.
TheAlloy are signing a Memorandum of Understanding with Zhong Xiing Telecommunication Equipment Company Limited (ZTE) to design compelling devices and user experiences worth £2.4 million over four years.
David Lock Associates in Milton Keynes are agreeing an urban design project worth £150,000 with Wuhan Planning and Design Institute.
Aircraft Research Association are announcing a Memorandum of Understanding with the Aeronautical Research Institute of the Aviation Industry Corporation of China, AVIC-ARI, to facilitate the establishment of joint research programmes, knowledge transfer activities and commercial projects.
UCL will be signing two Memorandums of Understanding with CZT City Cluster and Central South University.
The Business Secretary also announced greater co-operation on intellectual property, covering Patents and Designs, Copyright and Trade Marks. This will include an action plan for copyright and enforcement activities in the UK and China.
And he announced a memorandum of understanding between the Chinese State Administration for Industry and Commerce and Office of Fair Trading involving enhanced cooperation in competition enforcement and consumer protection.
Media contact
For more information, please contact Tessa Fras in the UK Trade & Investment press office on 020 7215 8483, or email tessa.fras@ukti.gsi.gov.uk.
Published 8 November 2010