UK Chief of Defence Staff visit to Copenhagen
General Richards was here to hold talks with Danish colleagues and to present an Award to Danish Afghanistan veteran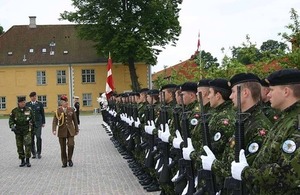 The United Kingdom's Chief of Defence Staff, General Sir David Richards GCB CBE DSO ADC arrived in Copenhagen on 26th June and departed on 28th June. While in Denmark, General Richards, amongst many other meetings and ceremonies, took part in a special ceremony where he presented the "Mentioned in Despatches" Award to Danish Staff Sergent Jacob Panton for his brave actions in Afghanistan.
The Chief of Defence Staff met Sergent Panton and his family. Sir Richards congratulated Sergent Panton for his brave actions while deployed in Afghanistan as a Tank Commander ISAF. The ceremony took place at Kastellet in Copenhagen. Also present was the Danish Chief of Defence, General Peter Bartram who inspected a Guard of Honour followed by a wreath-laying ceremony at the monument for Danish International Operations.
General Sir David Richards also held various meetings with Danish military and civilian officials.
Furthermore, during his visit to Copenhagen, General Richards had a Private Audience with Her Majesty Queen Margrethe II of Denmark. During the Audience, Her Majesty surprised General Richards by bestowing on him the "Commander of the Order of Dannebrog". General Richards was reported to be overwhelmed and deeply touched by this gracious honour.
Published 28 June 2013