Press release
UK calls for opening of political and media space in the DRC
UK Special Envoy for the African Great Lakes urges the Democratic Republic of the Congo (DRC) government to respect media and political freedoms.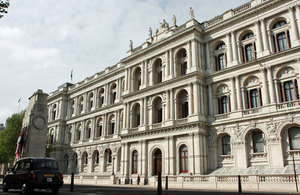 The UK Special Envoy, Danae Dholakia, said:
Like others, I noted the political agreement of 18 October between the Presidential majority and elements of the opposition in the DRC, and then welcomed the fact that talks would continue, with the support of the National Episcopal Conference of Congo (CENCO), to produce the inclusive agreement called for by EU Foreign Ministers and by the United Nations Security Council. Reaching such an agreement before the end of President Kabila's mandate on 19 December 2016 is very important and I remain deeply concerned about the potential for large-scale violence if an agreement is not reached before this date.

However, these talks are only likely to succeed if they take place in an environment where all fundamental political rights are respected. When I last visited the DRC, I stressed my concern about the ongoing shrinkage of political space. These concerns remain and I urge the government of the DRC to reconsider its decisions to forbid large-scale political meetings in Kinshasa and elsewhere in DRC, and to cease the blocking of Radio France International, now in its 5th day. The UK recalls that the right to freedom of expression is guaranteed by the DRC Constitution and the African Charter on Democracy, Elections and Governance to which DRC is a signatory.
Further information
Published 9 November 2016
Last updated 14 November 2016
+ show all updates
Added translation
First published.