UK Business Secretary announces multi-million pound deals in India
Vince Cable has welcomed a series of multi-million pound deals that were announced today in New Delhi.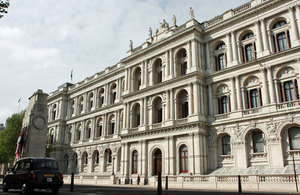 Business Secretary Dr Vince Cable has welcomed a series of multi-million pound deals that were announced on Thursday morning in New Delhi between UK and Indian firms.
Speaking alongside Indian Minister Kamal Nath, the Dr. Cable said that the deals showed the enormous potential offered by partnering with firms in India, predicted to be the fastest growing economy in the world this year.
Dr Cable said:
"I warmly welcome today's announcements. India is a country where you don't have to be a multinational to succeed. We have superb UK companies operating here in partnership with Indian firms, and I would encourage more UK firms to explore the opportunities here."
Among the deals announced today:
• Award-winning London-based architecture firm Benoy has won three major projects in Bangalore and Mumbai worth over £1.6 million in fees. The three projects are: RMZ Galleria, a 44,000 m² retail centre on the Expressway to Bangalore Airport; GKW Residences, a 195,000m² high-end residential development in Bangalore; and High Street Phoenix, a 270,000 m² site for a prime mixed-use development that will be a central landmark for Mumbai.
• Bath-based picoChip has agreed a multi-million pound deal with Rancore Technologies Ltd, which has selected picoChip's wireless baseband technology for the development of 4G basestations for rollout in India's next-generation networks. Rancore will use picoChip's picoArray™ PC203 multi-core digital signal processor, and picoChip physical layer (PHY) software, to develop next-generation basestations that will form the foundation of India's 4G mobile, broadband wireless access.
• Griffon Hoverwork, a Southampton-based manufacturer, has won a £34 million contract to sell hovercraft to the Indian coastguard.
• London-based business processing firm Xchanging has signed a Memorandum of Understanding with the Indian State Government of Karnataka to build a 2,000 seat processing centre on a five-acre site in a new Special Economic Zone. Xchanging is the first multinational company to set up a centre in a Tier-3 location in India. This will also be a first for 'green technology' based centres. .
• JCB announced the production of their 100,000th vehicle in India. One out of every two construction vehicles sold in India is a JCB. Their facility in Ballabgarh is the largest Backhoe Loader manufacturing facility in the world.
Published 29 July 2010