UK business leaders join counterparts at G20
HSBC Chairman among those taking part in discussions at G20 Business Summit.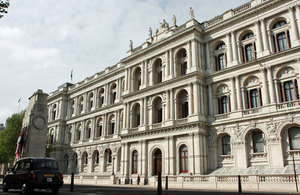 Senior business leaders have met in Toronto for the G20 Business Summit Program (B20) where they advised G20 finance ministers on tackling global economic challenges.
"Business doesn't always speak with one voice, but there is a collective, well understood interest in markets and free flow of trade and investment in a globalising world and it's important that we are part of the discussions" noted Stephen Green, Group Chairman, HSBC Holdings earlier this week.
Invited by Canadian Prime Minister Stephen Harper and Finance Minister Jim Flaherty, two participants from each G20 country discussed G20 policy objectives, paying particular attention to finding practical solutions to international challenges.
The summit included meetings with representatives from the World Trade Organization, Organization for Economic Co-operation and Development, and the Financial Stability Board, as well as a lengthy working session with the G20 Finance Ministers. Financial sector regulatory reform, trade and investment liberalization, and international development were also on the agenda, as well as international development and small business growth.
The UK was represented by Mr. Green and Andrew Witty, CEO of GlaxoSmithKline.
"I think that what the B20 should be looking to achieve is an encouragement and support for governments as they continue to grapple with issues around reform of the markets, learning the lessons of the crisis in a way which facilitates continued development of an open and increasingly integrated world economy." Mr. Green said, noting the role of governments. "We're at a stage where the worst of the crisis has passed - thanks to historically unprecedented coordinated government action to ensure the markets were pulled back from the brink."
Though the business leaders have gathered to advise politicians, they took time to discuss differing business climates around the world.
Mr. Green, a strong believer in London's strengths as a financial centre, is clear about the UK's advantages:
"There is a long, extremely important, tradition that has prevailed in British policy making down the decades: a long standing tradition of openness to the world markets. In many ways I think Britain's openness to the world markets and its leadership on issues about trade, is an important example to the world at large."
Search the news archive
Published 27 June 2010