Press release
UK boosts emergency aid for people displaced by conflict in Central African Republic
The new £7 million package of funding will allow the World Food Programme (WFP), Médecins Sans Frontières (MSF) and UNHCR to increase the life-saving humanitarian assistance they offer to refugees from CAR who have fled to Cameroon and Chad.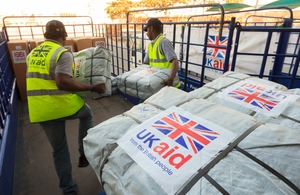 The funding will provide:
£2.5 million to WFP allowing it to feed 86,000 refugees in Cameroon, and provide 38,000 children and new and expecting mothers with additional food;
£3.5 million to UNHCR to give shelter, water and improved security to those that have fled to Chad and Cameroon, with focus on women and girls;
£1 million so MSF can continue providing emergency healthcare and critical nutrition treatment benefiting 50,000 people in Cameroon.
Justine Greening said:
"The crisis in the Central African Republic is worsening. A million people have fled their homes to try and find safety with many forced to seek refuge in neighbouring countries.
"The UK will continue to provide life-saving food, shelter and healthcare to vulnerable people affected by the violence in CAR and we will ensure that these supplies reach those in need."
The UK has provided £23m of humanitarian assistance in the Central African Republic following the fighting which broke out in March 2013.
Most of the families fleeing the violence in CAR have travelled to Chad and Cameroon on foot, facing violence, limited access to healthcare and surviving on little food. Up to 30% of children under-5 arriving in Cameroon are suffering from acute malnutrition.
The UN estimates that the total refugee population will reach 306,000 by December 2014.
General media queries
Follow the DFID Media office on Twitter - @DFID_Press
Published 29 September 2014