Press release
UK beer - pulling a billion pints for the world
UK is now exporting beer to a record number of countries supporting our long-term economic plan.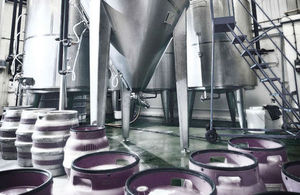 A record number of countries are now pulling more than a billion pints of UK beer in bars and restaurants across the world including Belgium and Australia, Environment Secretary Elizabeth Truss announced today.
New figures show the world has an ever increasing thirst for UK beer with our breweries exporting 1.1 billion pints to 113 countries in 2013 – more countries than ever before – generating £630 million for the UK economy supporting our long-term economic plan.
Today's announcement coincides with the Environment Secretary Elizabeth Truss' visit to Ilkley Brewery in Yorkshire which reopened five years ago and now produces 50,000 pints a week, exporting to more than 10 countries.
Environment Secretary Elizabeth Truss said:
There's no doubt we're world leading when it comes to our food and drink – Ilkley Brewery is a shining example - selling Yorkshire brewed beer to the bars of Tennessee and Georgia.

And as a country we've had huge successes selling £630 million worth of our quality ale, lager and stout to restaurants, pubs and supermarkets abroad, building a stronger economy for the UK.

We want to see British businesses build on this success. That's why we're supporting them, opening on average almost three new markets every week since 2010 and demonstrating to international companies how attractive it is to invest in the UK.
UK breweries are now selling pale ale and bitter to the far ends of the earth, including China, Bahrain and Mexico. More traditional beer nations are also supping up our pints including a record £147 million sold to the US and £93 million to Belgium in 2013.
Not only are UK breweries now quenching the thirst of millions of people across the world, but increasing their exports has also helped grow the UK's Food and Drink industry, which remains the country's biggest manufacturing sector, greater than cars and aerospace combined. The entire food chain contributes £97 billion a year to our economy and employs one in eight people.
There has also been a rise in micro-breweries across the country. In the last four years the number has almost doubled from 739 in 2010 to 1,403 in 2013 with UK supermarkets stocking an ever increasing variety of brands as consumers place a premium on home-grown British produce.
Brigid Simmonds OBE, Chief Executive of the British Beer & Pub Association, said:
It is great to see British beer exports at an all-time high. The quality and diversity of our beers is creating new export opportunities, and after two consecutive cuts in beer duty, Britain's brewers are growing in confidence and looking to invest, both within the UK and overseas.

We will continue to work closely with Government on this great British success story.
Richard Shelton, Managing Director of Ilkley Brewery, said:
We are proud of our local heritage and that we're are able to capitalise on the strength of the 'Yorkshire' brand.

Whilst we already distribute across the UK, and export to more than 10 countries, thirst for our beer continues to grow. Our small and dedicated team is working flat out to satisfy demand for our high quality beers and we're really pleased the Environment Secretary is championing us as a success story in British production.
Ilkley Brewery is seen as a great success in America after its specially developed products for the US market are now widely available in Alabama, Tennessee, Georgia, North & South Carolina, Florida and Washington. The company was recognised as one of the fastest growing companies in the UK and saw production increase from 6,000 to 50,000 pints per week in the last three years.
More information
In 2013 exports of UK food and drink was worth £18.9 billion - an increase of £1.2billion since 2010.

UK beer exports totalled 656 million litres equivalent to 1.1 billion pints - worth £630 million – an increase of 16% since 2010.
Photo credit: Ilkley Brewery
Published 23 October 2014
Last updated 23 October 2014
+ show all updates
Amend to headline
First published.