UK-based designers highlight British innovation
In a Foreign Office film launched today, French designer Sebastien Noel and German designers Conny Freyer and Eva Rucki discuss the unique attributes of the UK design industry that have allowed their business to flourish.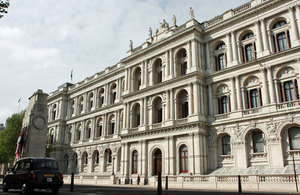 The film is one of the 'See Britain through my eyes,' series featuring individuals from abroad talking about their experiences of modern Britain in the run up to the London 2012 Olympic and Paralympic Games.
In their short film the designers discuss how they have benefited from UK clients that are willing to take risks and commission relatively inexperienced graduates, as they were when they started out.
The three designers met on a postgraduate course at the Royal College of Art, each choosing to study there because of its reputation as one of the best schools in Europe.
After successfully collaborating on a number of college projects the trio went into business together after graduating, setting up their own design studio, Troika, in the UK.
They have completed projects for British Airways, the Museum of Modern Art, New York and the Victoria and Albert Museum in London among others. Troika also created the exhibition content for the UK Expo Pavilion in Shanghai in 2010 with the aim of promoting sustainable living in cities.
As the world becomes increasingly reliant on technological advances we have witnessed a change in traditional artistic platforms. Troika uses technology as a tool for artistic production, using playfulness, humour and provocation to engage their audiences.
The design sector is a major and growing contributor to the UK economy. Turnover was £15 billion in 2009, an increase of 15 per cent since 2005. The UK is home to many well-respected trade bodies with global influence and reach dedicated to the enhancement of creativity across all design disciplines.
Published 24 January 2011