UK backs UN Women to invest more in girls
The UK will improve the prospects of millions of girls and women around the world by supporting the new agency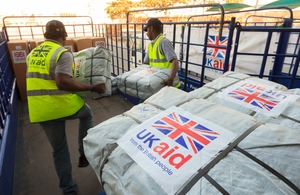 More support for girls and women can stop poverty in its tracks
The UK will help improve the health, education and job prospects for millions of the poorest girls and women by supporting UN Women, International Development Secretary Andrew Mitchell announced today.
The new agency was established earlier this year to improve the UN's ability to tackle gender inequality and help millions of the poorest girls and women escape chronic poverty.
Britain has pledged to provide £10 million each year to UN Women over the next two years. This will place the UK as the second largest donor to the agency, allowing the UK to show clear leadership in this field while ensuring that there is a fair burden share amongst contributing nations. The UK will review its support for the agency over its initial two year period.
Announcing his new support to UN Women, Andrew Mitchell said:
Investing in girls and women can help to stop poverty in its tracks.

We have high expectations that UN Women can drastically improve the lives of millions of the poorest girls across the world.

UN Women must now demonstrate it can deliver results where it matters most.
Michelle Bachelet, Executive Director of UN Women said:
The UK has been a true champion of gender equality, and a continuous supporter of UN Women.  We heartily welcome the UK's announcement today pledging a multi-year financial contribution to the organisation.

It is a vote of confidence in our new organisation, UN Women, and will enable us to work steadily towards the implementation of the organisation's just-approved strategic plan
Evidence shows that investing in girls and women is a highly effective way to reduce global poverty. For example, in the Ivory Coast, an increase of just $10 in women's income achieves the same nutritional and health outcomes for children as an increase in $110 in men's income.
The new agency has promised to:
Hold the UN system to account on gender equality
Help 15 countries adopt legislation to tackle domestic violence
Support efforts to allow women to participate in political decision-making in 25 more countries
Ensure UN agencies improve the effectiveness and efficiency of aid programmes which support women. A failure to work properly across other organisation has led to duplication, waste and delay
Design effective programme to improve the health, education and future chance of millions of girls and women in the developing world, such tackling violence against them by increasing their access to justice and working with boys and men to change their attitudes
Published 6 July 2011