UK backs activist's call for a new Yemen
William Hague and Alan Duncan pledged Britain's support for Yemen's transition in a meeting with Nobel Laureate Tawakul Karman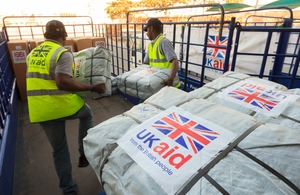 The British Government reiterated its commitment to a free and safe society in Yemen yesterday, in a meeting with one of its leading peace activists.
The Foreign Secretary William Hague and Development Minister Alan Duncan met Tawakul Karman - a prominent Yemeni journalist and co-recipient of this year's Nobel Peace Prize -and pledged the UK's ongoing support to Yemen's political transition and to those caught up in the country's humanitarian crisis.
Britain has been providing emergency support to those worst affected by the fighting and instability this year. UK aid has helped the Red Cross reach 100,000 people in conflict affected areas, as well as ensure it has staff, equipment and supplies in place to treat civilians injured in the civil unrest.
Speaking after the meeting in London, Development Minister Alan Duncan said:
I raised the grave and continuing humanitarian and development challenges facing Yemen with Ms Karman. I also emphasised the UK's ongoing commitment to helping poor and vulnerable Yemenis who have suffered as a result of months of instability and conflict and discussed how best to represent and address the future needs of all sections of Yemeni society.
Foreign Secretary William Hague said:
We discussed the importance of peaceful and inclusive political transition in Yemen and I reiterated the UK Government's ongoing commitment to supporting this. I welcomed Ms Karman's call for all Yemenis, both men and women, to unite to create a democratic society free from corruption and violence and based on the rule of law.
Ms Karman is the youngest ever Nobel Laureate and the first Arab woman to receive this accolade. She has been described as Yemen's Mother of the Revolution during a year of change cross the Middle East and North Africa.
Published 16 December 2011