UK Armed Forces are Pride of Britain
Members of the UK's Armed Forces have been honoured by the general public and celebrities this week at the Daily Mirror Pride of Britain Awards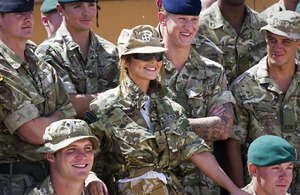 In a star-studded ceremony which took place on Monday, 3 October 2011, in London's Grosvenor House Hotel, representatives from all three Services were heralded for their courage and bravery in the face of adversity.
The annual awards have been designed to highlight remarkable acts carried out by British individuals and, unsurprisingly, every year the Armed Forces are amongst those recognised for the work they do both at home and abroad.
A panel of judges, which this year included Lance Corporal Johnson Beharry VC, whittled down thousands of nominations from the general public to decide who should be singled out to be honoured.
As 2011 marks ten years of UK operations in Afghanistan, singer Cheryl Cole visited troops in Camp Bastion last month to present a Special Recognition Award which honours all of Britain's Armed Forces.
Presenting the award to Commander Task Force Helmand, Brigadier Ed Davis, Ms Cole said:
I have so much respect for our Forces. We all owe them so much.
Of her experience in Afghanistan, she said:
My time in Afghanistan was amazing, really amazing. It was scary. I was terrified, I'm not ashamed to say I uttered a few expletives.
At the ceremony itself, Ms Cole gave a message of support to all Service personnel:
Keep your heads up, stay as safe as possible and I love you all," she said.
Also receiving a Special Recognition Award was Acting Sergeant Dipprasad Pun CGC (Conspicuous Gallantry Cross) of the Royal Gurkha Rifles who was honoured for his actions in September 2010 during his deployment to Afghanistan on Operation HERRICK 12.
Acting Sergeant Pun single-handedly took on dozens of insurgents when they launched an attack on his base and as a result saved the lives of three of his fellow soldiers. He said:
I was in Helmand province in the Babaji area in a very hostile area and there was a checkpoint where I was on sentry. There were many Taliban who overran that checkpoint and I was alone. I saw them and had to fight them on my own.
Initially, when I saw two Taliban at about 200 metres away, I was scared. I opened fire at them and there were many other Taliban firing towards me; I thought that they were going to kill me. I thought, before they kill me, I have to kill as many of them as I can.
Acting Sergeant Pun explained how the incident affected him:
After a couple of days, it was out of my mind. I felt more confident after the incident as I thought that the Taliban don't have as good a fighting capability as us.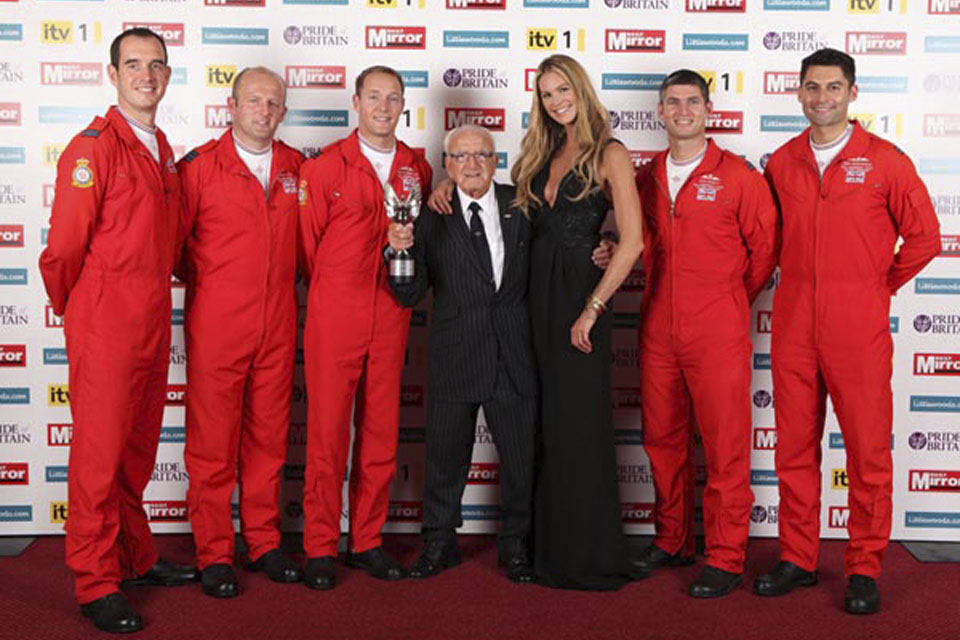 Former England cricketer Freddie Flintoff and singer Myleene Klass presented Acting Sergeant Pun with his Pride of Britain Award. Mr Flintoff said:
I just can't get my head around what he's done. You go about your normal life, which for me was a bit of cricket and a bit of TV stuff, and seeing what he's done is just amazing.
His bravery and selflessness is something I can't get my head around. I think it's shocked a few people to see what he's done. A lot of people don't know what goes on out there.
All the work our servicemen do is just amazing. I'm a massive supporter.
Ms Klass added:
When you hear Dipprasad's story, it sounds like something you usually see at the movies. When you think that one person single-handedly took on so many insurgents, let off 400 rounds of ammo and lived to be able to tell the tale, it just defies understanding.
Members of the RAF's Red Arrows display team appeared on stage to present the Fundraiser of the Year Award to 91-year-old Tom Lackey who has helped to raise over £1m for charity by wing-walking in a string of record-breaking stunts.
Flight Lieutenant Zane Sennett from the Red Arrows said:
Together with Elle Macpherson we presented Tom Lackey with a Pride of Britain Award. He's just finished his wing-walk as a 91-year-old and he's still doing a lot of stuff for charity.
He mentioned that he has a favourite pilot who flies the biplane that does the loop-the-loop with him and we're very much his favourite group of pilots, so it was a real honour to present this award. It was fantastic.
At the end of the ceremony, the Pride of Britain judges invited wounded Service personnel from Row2Recovery and the Soldiers, Sailors, Airmen and Families Association (SSAFA) Ride of Britain to appear on stage to be acknowledged for their sterling efforts and the challenges they volunteer for. See Related News to read more about these events.
Many celebrities who attended the awards were keen to voice their support and encouragement for the UK's Armed Forces.
Supermodel Elle Macpherson said:
Keep the faith. We're so proud of you. The amount of courage, dedication and bravery that these guys have is formidable.
TV presenter Gethin Jones said:
No words of mine would help, but I hope they all know and you can't undervalue saying this too many times, but everyone's so proud of the work they do out there.
They are true heroes in every sense of the word and we hope that they will stay safe and come back safe as well.
Tulisa Contostavlos from the X Factor TV show said:
Boys, girls, keep doing what you're doing. Everyone back home loves you and we miss you and we're rooting for you.
Footballer Robbie Savage said:
They're just so brave. You think you're brave standing in front of millions of people on a Saturday night to dance, that's nothing in comparison to what those guys do.
Published 5 October 2011