News story
UK announces new climate programmes in Africa, South America and other vulnerable countries through the International Climate Fund
Renewables power in Africa and sustainable farming in Colombia are two of the innovative programmes to be funded by the UK, Edward Davey announced…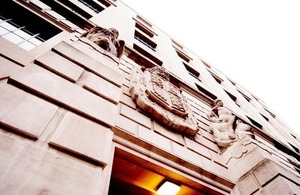 Renewables power in Africa and sustainable farming in Colombia are two of the innovative programmes to be funded by the UK, Edward Davey announced today as he arrived in Doha for the second week of the UN climate talks.
Ahead of an event entitled 'Creating partnerships to close the gap' at the British Embassy in Doha, the Secretary of State announced a package of support using the UK's International Climate Fund to help developing countries to tackle climate change and to reduce poverty.
Secretary of State Edward Davey said:
"Climate change is a global threat and with every passing year, the nature and the extent of that threat grows clearer. We also recognise that the world's poorest will be hit the hardest by the impacts of climate change and we need to help communities adapt to these challenges.
"Climate finance is fundamental to building resilience and capacity for countries to mitigate and adapt to climate change. Our focus will be on results that make a difference on the ground and we are working with a variety of partners, including developing countries, other donors organisations and the private sector to deliver this.
The package includes two programmes to help stimulate private sector investment to provide low carbon energy in Africa, a programme to reduce emissions from cattle ranching and support smallholder farmers in Colombia and a programme to help developing countries to develop strategies to reduce their emissions.
Edward Davey also announced that the UK will deliver the £1.5 billion pledge of Fast Start finance by December 2012 and that the UK was committed to delivering its fair share of the global long term goal to jointly mobilise $100 billion per year by 2020 of public and private finance in developing countries.
Notes to editors
The UK is committing £98 million to Green Africa Power (or 'GAP') , which aims to stimulate private sector investment in to renewable power generation in Africa. GAP aims to finance approximately 270MW of new renewable energy generation capacity, saving 3.9m tonnes of carbon emissions and improving the supply of clean energy to millions of people in Africa.
The UK is working with Norway, Germany and Uganda on the "Get Fit" project and will make a £14 million contribution. This will support the development and completion of small-scale on-grid renewable energy projects in Uganda in an effort to both avoid an energy shortfall and promote private sector investment.
The UK's Water Security Programme will provide support of £21 million over three years (2012 - 2015) to help 18 million poor people become more resilient to climate change through improved water resources management. Working through the Global Water Partnership and the World Bank Water Partnership Programme we will help to increase secure and sustainable access to water for drinking and sanitation, irrigation and flood protection reducing vulnerability to climate change. The programme will also benefit over 100 million people indirectly through improved water planning, development and management in strategic river basins
The UK is working with the Colombian government, including providing a £15 million grant over four years to support the growth of low carbon agriculture to reduce emissions, improve the livelihood of farmers, protect local forests and increase biodiversity. Specifically it promotes silvopastoral systems (SPS) to improve degraded grazing land by methods such as planting trees and shrubs. The project aims to convert 28,000 hectares of grazing land to SPS, saving around 2m tonnes of carbon emissions.
UK is providing £1.5 million over 2012-2014 to work with 10 developing countries, involving partnerships between national Ministries to expand and build on the innovative UK-developed interactive energy and emissions scenario '2050 calculator'.
The UK Government has set up the International Climate Fund (ICF) to help developing countries tackle climate change and reduce poverty. We will work in partnership with developing countries to take action to reduce carbon emissions, to help people adapt to the effects of climate change and to tackle deforestation.
The UK will provide £2.9 billion of international climate finance through the ICF from April 2011 to March 2015. This was announced by the Chancellor as part of the spending review.
The ICF is split between three government departments - DECC, the Department for International Development (DFID),and the Department for Environment, Food and Rural Affairs (DEFRA). DECC is responsible for delivering £1 billion of the ICF.
On 29 November, the Government outlined its plans to tackle deforestation as part of the UK's international climate change commitments, working with the private sector and rainforest countries.
Published 4 December 2012