World news story
UK announces a £22m increase of emergency humanitarian aid for the DRC
UK statement delivered during the Humanitarian Conference on the Democratic Republic of the Congo on 13 April 2018 announces a £22m increase of emergency humanitarian aid.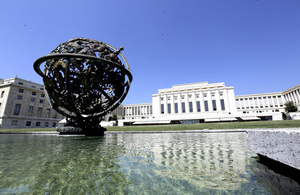 I appreciate that the decision to go ahead with this Conference has not been comfortable but all of us here today are absolutely committed to solving the humanitarian crisis in the Democratic Republic of Congo (DRC)
I want to begin by stating that the UK will commit and disburse at least £100 million to the UN Humanitarian Appeal for the DRC for 2018. This figure includes £22 million announced yesterday in Kinshasa, by our Minister of State for Africa, Harriett Baldwin.
Minister Baldwin visited Tanganyika and Kasai Centrale Provinces this week where she saw for herself the unacceptable conditions suffered by those displaced by conflict and insecurity.
She met with people whose lives have been shattered. Children who have lost parents and been separated from their families. And parents who try to care for their families in cramped living conditions in IDP camps where challenges of safeguarding, unsanitary conditions and individual safety still threaten their survival.
The people she met are a fragment of the millions of Congolese facing malnutrition, food insecurity, disease and a continued uncertain future.
For the UK there are three immediate issues to that need to be tackled and addressed.
Firstly, security and access for humanitarian actors who deliver lifesaving aid must be facilitated and not impeded. The UK will continue to insist that the principles of humanity, neutrality and impartiality that underpin international humanitarian action and assistance are respected.
Our Minister directly raised these issues with Provincial and National authorities during her visit. The UK was clear that we expect the ongoing discussions around the draft NGO law to underpin and facilitate these principles of accessibility, impartiality and delivery thereby allowing our support to continue to reach those most in need in a timely and effective manner
Secondly, we remain increasingly concerned at the increase in conflict and insecurity in the DRC, particularly in the East, where previously peaceful Provinces have experienced an upsurge in violence driving thousands of men, women and children away from their homes and across national borders.
As our Secretary of State, Penny Mordaunt set out in her vision for UK aid yesterday, we must also recognise that the common thread that runs through the world's worst humanitarian crises is not famine or drought, but man's own actions: conflict, crime, corruption, capital flight and climate change. In the DRC we need to remember that the humanitarian crisis is man-made and we need to act collectively to address this.
Thirdly, the DRC cannot remain a "forgotten crisis" even in the face of other worldwide humanitarian needs. We must ensure that those in greatest need receive the lifesaving support and protection they desperately require – now before needs escalate even further. That is why the UK continues to support the humanitarian response and why we have nearly double our support this year. This funding is immediately available to our implementing partners and we have shown flexibility and rapid re-prioritisation in doing so. The UK calls on other countries represented here today to show the same flexibility and commitment.
Published 13 April 2018