UK and Zimbabwe reaffirm close friendship
Minister for Africa and Zimbabwean Minister for Education, Sport, Arts and Culture cheer on Zimbabwean and Team GB swimmers.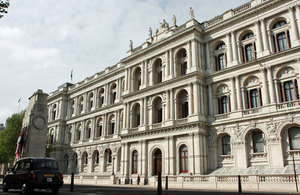 On Monday evening Minister for Africa Henry Bellingham joined David Coltart, Zimbabwean Minister for Education, Sport, Arts and Culture, to watch Zimbabwean Kirsty Coventry race in the 200m Individual Medley Semi-finals against other Olympic hopefuls, including Team GB's Hannah Miley.
The motto of the London 2012 Olympics is "inspire a generation" and Kirsty Coventry embodies this spirit for young Zimbabweans. As holder of an extraordinary seven Olympic medals, including two gold medals in the 200m backstroke she is Zimbabwe's most successful Olympian.
The Olympics are an important opportunity to reaffirm the close friendship between the UK and the Zimbabwean people - a commitment demonstrated by our aid programme, which has increased to £83m this financial year.
Although the UK remain's concerned by the slow pace of political reform in Zimbabwe, Mr Bellingham expressed the UK's support for the steps forward that have been taken in the last six months. He also shared our hope for a peaceful and credible Constitutional referendum in the autumn.
After the event, the Minister for Africa said:
"It was a pleasure to go to the Aquatics Centre with Senator Coltart to cheer on Hannah Miley and Kirsty Coventry last night. I thought they both swam brilliantly and I am delighted that they have qualified for the finals. I'm sure the final will be as exciting and I wish them all the best."
Published 31 July 2012