News story
UK and Vietnam sign Defence Co-operation Memorandum of Understanding
A Defence Co-operation Memorandum of Understanding (MOU) has been signed today between representatives of the UK and Vietnamese Governments.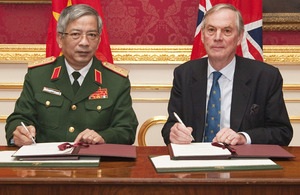 Lord Astor of Hever, Parliamentary under Secretary of State for Defence, signed the MOU with Lieutenant General Nguyen Chi Vinh, Vietnam's Deputy Minister of National Defence, at Lancaster House today.
The signing of this MOU follows on from the Strategic Partnership Declaration signed on 8 September 2010 by Vietnam's Deputy Prime Minister and Foreign Minister, Pham Gia Khiem, and the UK Foreign Secretary, William Hague.
The agreement with Vietnam demonstrates the UK's commitment to pursuing an active foreign policy with emerging powers around the world. The UK aims to make the Strategic Partnership a springboard to take our growing bilateral trade relationship to the next level.
The Strategic Partnership Declaration demonstrates the breadth and the depth of our co-operation, including defence and security.
The UK is looking to engage more closely with countries in South East Asia and the Defence Co-operation MOU signed today between Lord Astor and Lieutenant General Vinh is another example of this regional engagement.
It is expected that today's MOU signing will further enhance the bilateral relationship and will aid the exchange of information in areas such as training and peace support operations.
Lord Astor said:
I welcome the opportunity to meet with Lieutenant General Nguyen Chi Vinh today and to sign the Defence Co-operation MOU.
We had fruitful discussions on a number of topics and hope that the MOU will help to facilitate a deeper level of co-operation between our two nations, enhancing the bilateral relationship envisaged in the Strategic Partnership Declaration signed in London last year.
Published 24 November 2011