UK and US troops enjoy barbecue at Downing Street
A barbecue for over 160 British and American Service personnel and their partners was hosted at Downing Street yesterday as part of US President Barack Obama's state visit to the UK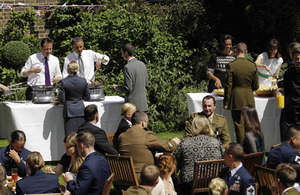 The event was hosted by the UK Prime Minister's wife, Samantha Cameron, and the US's First Lady, Michelle Obama, while their husbands held meetings inside 10 Downing Street. Although Mr Cameron and Mr Obama did help to serve lunch - meeting and paying tribute to the men and women in uniform from both sides of the Atlantic.
In addition to the 47 US Service personnel attending the barbecue, there were also 45 UK Service and civilian personnel representing the Royal Navy, Royal Marines, British Army, Royal Air Force and the Ministry of Defence.
All have served in operational theatres on joint US-UK deployments, including Iraq, Afghanistan or both - some for multiple deployments. A few of the individuals from the UK at the barbecue have worked very closely with US units.
Like their American colleagues, some of the UK personnel have received combat decorations and some have been decorated by the US military as well for their exemplary service.
Among the four Royal Navy personnel present was Lieutenant Commander Victoria Dale-Smith, a Commando Sea King pilot who flew missions in Iraq at the start of Op TELIC in 2003.
One of the six Royal Marines in attendance was Lance Corporal Joe LeBorgne who, during his latest deployment to Afghanistan in 2010, was part of a patrol tasked with rescuing the US crew of a Black Hawk helicopter which had landed in the vicinity of his patrol base.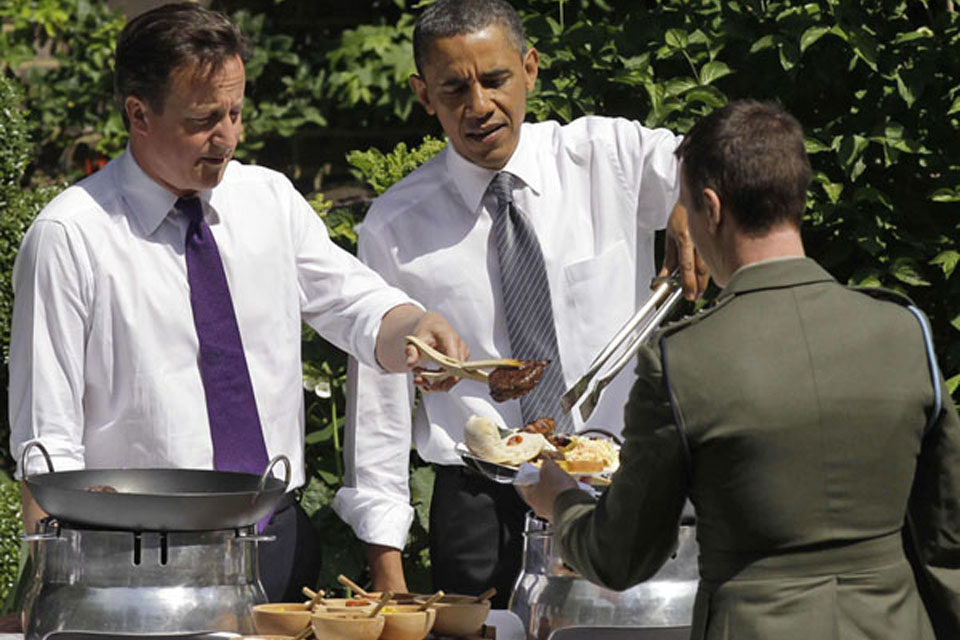 20 members of the British Army, ten RAF personnel, and five Ministry of Defence civilians also attended with their wives and husbands.
Each of the personnel have played their own particular role on operations - Lieutenant Colonel Gerry Ewart-Brookes' regiment was heavily involved in the handover of Sangin from UK to US control, while Wing Commander David Scott Heather was awarded the US Meritorious Service Medal for Operation IRAQI FREEDOM.
Michael Goldsack, a MOD civilian, was deployed to Afghanistan with the Defence Support Group, who maintain and repair military vehicles and equipment, and Sergeant David McIlwraith was deployed with the MOD Police (MDP) and was involved with the training of Afghan National Police personnel.
He said:
Right from the start, MDP officers like myself have been training and mentoring the Afghan National Police as part of the UK's contribution out there, working alongside the military.
Recently, we had a particularly strong and effective relationship with 5 SCOTS [5th Battalion The Royal Regiment of Scotland] at the Helmand Police Training Centre.
Today was really special. As a small part of a huge operation, to be honoured in this way today is just fantastic.
Many of the spouses of the Service personnel serve in military family support programmes, child development centres, military community libraries and schools, and scholarship associations for military children.
Earlier in the day, the Prime Minister and President Obama announced the establishment of a Service Personnel Task Force which aims to deliver the best possible support for serving members of the Armed Forces and veterans - see Related News.
Published 26 May 2011