UK and US navies compare training for Afghanistan
As British and US troops are increasingly working side by side in Afghanistan, a group of Royal Navy personnel recently crossed the Atlantic to compare and contrast pre-deployment training between the UK and America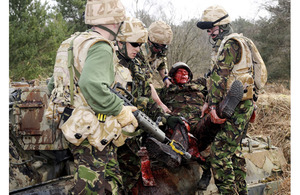 The six Royal Navy instructors who visited America last week are based at the Pre-deployment Training and Mounting Centre in Portsmouth. They met their American counterparts at the US Army's combat training centre at Fort Jackson in South Carolina.
When it comes to length of deployment and type of training, the US and the UK have their own ways of doing things and it was hoped that this visit might provide a knowledge-sharing opportunity.
At Portsmouth most of the instructors are Royal Marines with operational experience, whereas the US Navy sailors are taught by the Army at one of eight military bases across the country.
In the UK around 1,000 sailors are trained every year as Individual Augmentees (IAs) who deploy to Afghanistan on a one-in-one-out basis, whereas in the US the total is nearer 40,000.
IAs can be sailors trained in a wide range of skills such as logistics, admin, intelligence or operations, and are able to join units already based in Afghanistan.
In the UK the maximum deployment period is six months, whereas in the US it is up to a year. In both cases sailors may be required to provide support to bases on the front line.
Although both countries are keen to learn from each other, the ultimate goal of the training is exactly the same.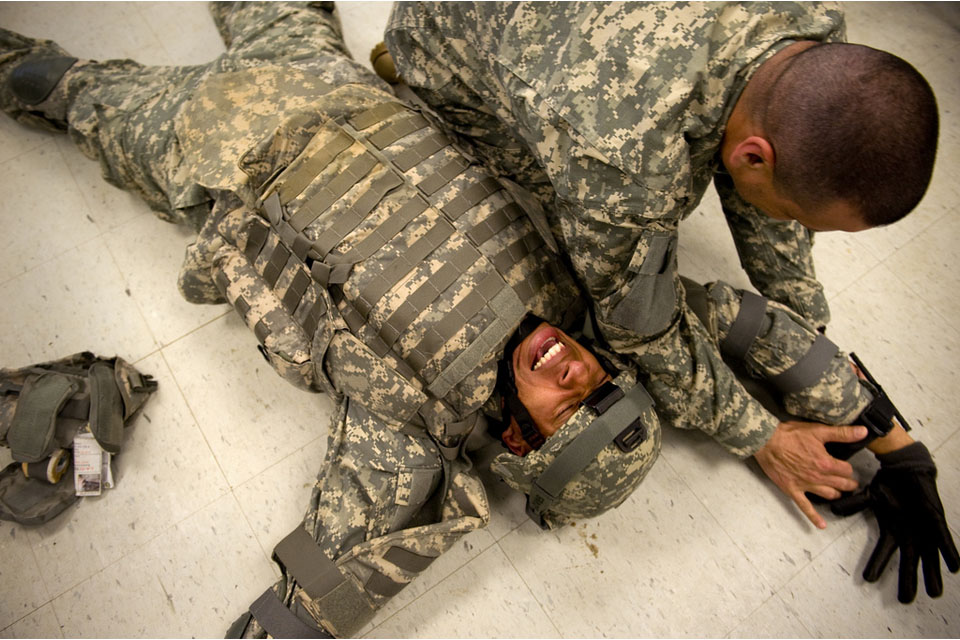 One of the six Royal Naval instructors who visited Fort Jackson, officer-in-charge of the Portsmouth Mounting Centre, Lieutenant Commander Pat O'Callaghan, said:
The courses both run on the exact same principle - to get the sailors up to the standard that is required to work with land forces on the ground in Afghanistan.
Our course is slightly longer than the US, but they both cover all the fundamental aspects of pre-deployment training - cultural awareness, counter-IED, weapon-handling, medical trauma treatment, and how to protect themselves while on foot or vehicle patrols.
There were a few differences on both sides - for example we use real life amputees in our scenarios whereas they use mannequins, but the US have a very good administrative system when it comes to issuing kit which we think we may also incorporate into our practices here.
As a navy's traditional role involves working with ships on the water, a deployment to Afghanistan can be challenging for some IAs. Lt Cdr O'Callaghan said:
This is something brand new for them. They are no longer on their ships and are instead drawing on all their military skills to survive out on the ground.
The Mounting Centre in Portsmouth trains groups of 80 personnel 12 times a year to ensure a constant rotation in the main operating bases in Afghanistan, the forward operating bases, the headquarters in Kabul and for those mentoring the Afghan National Army.
For the first two weeks the sailors take part in SA80 rifle training where they must produce consistently tight grouping on their targets at a range of 300 metres both in normal daylight and reduced light at night - the same requirement as that of Army personnel.
Once issued with their weapon, each serviceman must make sure they are confident with all the handling aspects by repeatedly stripping, cleaning and firing the rifle as it will be their constant companion for the duration of their tour.
Following the intensive two-week weapon course, each group is then taught vital survival skills such as a smattering of the local language, medical trauma treatment, an understanding of IEDs and mines, and also how to protect themselves on foot or vehicle patrols.
A week then follows at Longmoor training camp in Hampshire where the sailors put their newly-learnt skills into practice on exercise around a makeshift forward operating base - taking part in foot and vehicle patrols, coping with constant ambushes, and returning fire.
Published 5 August 2010