UK and US Defence Secretaries meet
Secretary of State for Defence, Dr Liam Fox, met with his US counterpart, Defense Secretary Robert Gates, in London yesterday for a wide-ranging discussion on defence issues affecting both countries.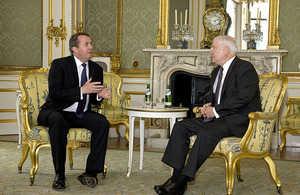 Speaking at a press conference following yesterday's meeting Dr Fox said issues covered in his meeting with Mr Gates included progress in Afghanistan, the upcoming Strategic Defence and Security Review, reform of NATO and nuclear weapons in Iran.
Dr Fox and Secretary Gates both reinforced their commitment to Afghanistan.
Dr Fox said he thought hard about the issue before accepting the position of Defence Secretary last month, concluding there is still a national security imperative:
I believe that we cannot afford Afghanistan to lapse back into a failed state which will create a security vacuum which will contaminate the region and possibly well beyond it.
We are committed to seeing it through to a resolution. By that I mean creating a stable enough Afghanistan to manage its own internal and external security.
Dr Fox said British troops would stay until Afghanistan was 'stable enough' to ensure internal and foreign security and the nation was run by the Afghans for the Afghans.
Questioned whether British forces would move from Helmand to Kandahar at some point in the future Dr Fox said that UK forces had built up a strong understanding of the terrain and personalities unique to Helmand and that a move to Kandahar would be 'quite a leap' which would also incur a large cost.
He concluded that it would therefore be 'highly unlikely' that any such move would happen and it is not something the UK Government would be proposing or indeed something that ISAF Commander, General Stanley McChrystal, has proposed.
However, he added that the nature of the effort would inevitably change over time, with Secretary Gates making clear that July 2011 was the US target for the beginning of military withdrawal, dependent on 'conditions on the ground'.
Secretary Gates paid tribute to the British contribution to the ISAF effort in Afghanistan and said:
British troops are demonstrating incredible courage on the battlefields of southern Afghanistan.
I told Dr Fox how much we in America appreciate his nation's leadership in this effort and I offered my condolences for the nearly 300 British troops who have been lost in the conflict, including several just this week.
To paraphrase a poet from the Great War, British fighting men and women have more than done their bit and… had their share.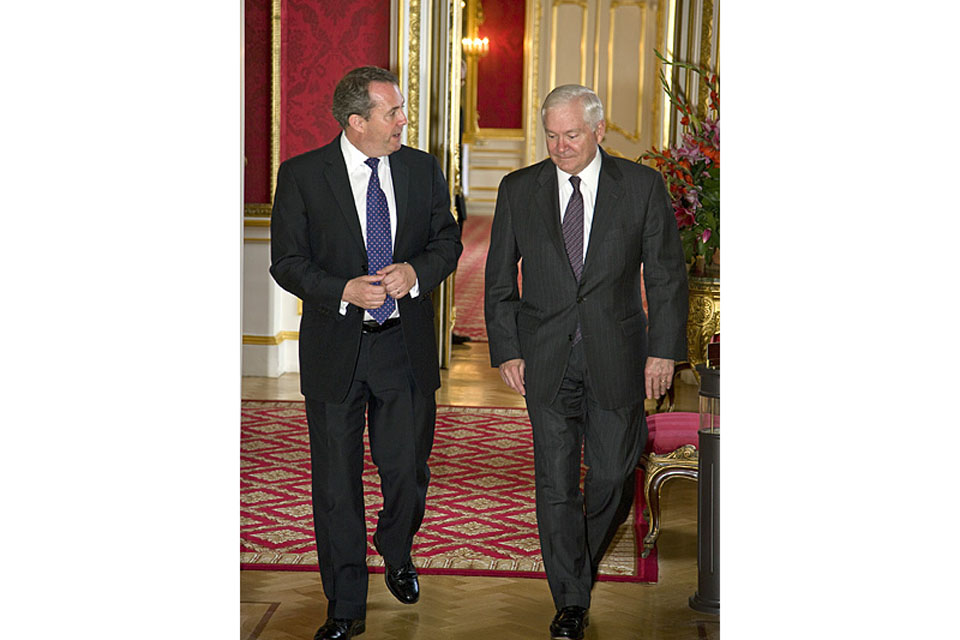 Secretary Gates said that the international community would have to stay committed to the country for many years to come, with civilian support increasing as the need for foreign combat troops becomes less acute.
Iran was also a key feature of the discussions. Mr Gates said he was hopeful the United Nations Security Council would pass a resolution designed to prevent Iran developing nuclear weapons 'very soon'.
Dr Fox was also optimistic in that regard and warned that if Iran were to become a nuclear power it would destabilise the entire region and 'may well be the end of the NPT [Nuclear Non-Proliferation Treaty] as we know it'.
But Dr Fox said a new UN resolution backed by the entire global community would demonstrate to the Iranian leadership how 'serious' the situation was.
Both men also said that they agreed on the need for reform of NATO and would work together to achieve their aims in this area and Dr Fox said Britain would take lessons from the US when it decides on the future of Defence in the Strategic Defence and Security Review.
Published 9 June 2010