UK and US carry out air tanking exercise
Air Force personnel from the UK and the US have carried out a joint training exercise to improve the way NATO carries out air-to-air refuelling.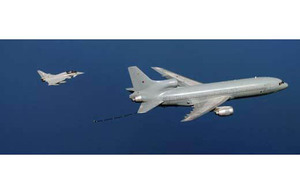 An L-1011 TriStar from 216 Squadron, based at RAF Brize Norton, deployed to RAF Mildenhall which is home to 100th Air Refueling Wing, the only US Air Force (USAF) air refuelling wing in Europe.
The UK TriStar flew alongside a USAF KC-135 Stratotanker in a unique refuelling exercise, created after experiences in recent combat operations over Libya.
No record of a formation flight comprised of US Air Force and RAF tankers can be found, and, although it can't be confirmed that it has never been done, the training is the first of its kind in recent history.
Air-to-air refuelling is a key capability for RAF air power operations. Mid-air refuelling by tanker aircraft enables other aircraft to travel thousands of miles without the need to land, and extends the time they can spend on patrol.
After the aircrews completed their pre-flight briefings together at RAF Mildenhall and took off in formation, the tankers flew out over the North Sea within a few miles of each other, and kept that distance throughout the aerial refuelling procedures.
In many ways, apart from the formation aspect, the flight was a routine training sortie, but the experience was worth more than just logged hours for the crews.
After NATO operations in Libya in 2011, the need for allied nations to familiarise their air forces with air-refuelling operations was identified. NATO air-refuelling procedures are laid down in publications, but the formation gave the crews valuable practical experience.
In most modern day operations, the RAF integrates with allied armed forces from around the world, and joint training maintains the RAF's ability to swiftly combine with the armed forces of many different nations:
We're building partnerships with our international allies," said Captain Mark Berthelotte of the 351st Air Refueling Squadron.
The idea for the training was brought up at the 2012 European Tanker Symposium, which was hosted at RAF Mildenhall and included tanker crews from the United States, United Kingdom, France, Belgium and Italy.
The symposium included briefings and guided discussions about lessons learned from Libya, the future of European refuelling and a familiarisation ride in a KC-135 flight simulator.
According to Captain Berthelotte, during Operation UNIFIED PROTECTOR, the 2011 Libya operation, refuelling sorties were taking up vast amounts of airspace, and through formation training the aircrews hope to identify ways to better utilise that space. He said:
The purpose of [the formation training] is, instead of using three tankers and taking up 9,000 feet [2.7km], we could use three tankers and take up about half that amount of airspace. This will allow for more space to be used by other military aircraft.
In addition to the airborne portion of the training, relocating the TriStar and its crews to RAF Mildenhall allowed 216 Squadron to experience working from an unfamiliar base, useful training for the squadron's deployments around the world.
Squadron Leader Phil McConnell, from 216 Squadron, said:
It provides us with the opportunity to practise deploying to complete air-to-air refuelling missions from somewhere different than our home base. That's not something we get the chance to do very often. This essential training allows us to operate safely and effectively.
Published 24 August 2012