UK and Switzerland reinforce their close bilateral relationship
Foreign Secretary William Hague met Switzerland's Federal Councillor for Foreign Affairs Didier Burkhalter in London on 1 August.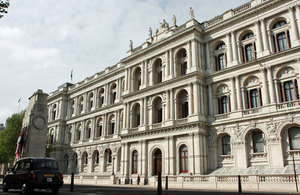 The Foreign Secretary welcomed the strong Swiss presence at the London Olympics.
During their meeting, the Foreign Secretary and Federal Councillor Burkhalter discussed the rich relationship between the United Kingdom and Switzerland and the many shared interests in Europe and the wider world including Syria, Iran and the Western Balkans. They noted the significant economic ties between Switzerland and the UK; with bilateral trade in 2011 worth over £25 billion in goods and services, and discussed how to remove barriers to UK companies operating in Switzerland. Their discussion also touched on ways to intensifying the UK-Swiss dialogue on issues such as international security, counter-terrorism and scientific cooperation.
Both Ministers wished success to each other's national team during the Olympic Games and Paralympics mentioning the cycling, diving, rowing and water polo events.
Published 1 August 2012