World news story
UK and South Korea - A Creative Partnership
Ambassador Wightman: Speech to the National Academy of Engineering of Korea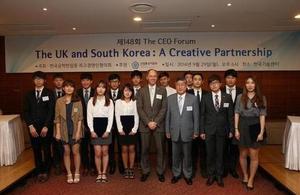 It's a particular honour for me to be invited to address you today.
I am grateful for the kind invitation of the distinguished Executive Vice President of the National Academy of Engineering Korea(NAEK), Dr Dongwha Kum, and Chairman of the NAEK CEO Forum, Professor Myung-Sung Lee.
And I would like to thank all of you too for taking the time to come to listen to me this evening.
The National Academy of Engineering Korea, like our UK equivalent, the Royal Academy of Engineering, exists to carry out a range of functions. It encourages and supports innovation and the advancement of engineering. But at its heart is a passion to heighten both public understanding of the sector and to provide the latest advice to governments and Korea's leading companies on the latest policy issues.
I am therefore pleased that there is a young, but growing, relationship between the NAEK and the Royal Academy of Engineering, and I support this wholeheartedly.
I was asked today to speak on what the UK has been doing recently to support what is seen as one of the most creative economies in the world.
I will also touch on some of the existing areas of collaborative activity between the UK and South Korea; models which I hope can be replicated into further opportunities for cooperation.
I hope that what I have to say will be of interest to you, regardless of whether you work in business, academia or government.
UK remains a creative power
The UK has a long and rich history at the forefront of global science and engineering. James Watt launched the industrial revolution with their steam engine. George Stephenson and Isambard Kingdom Brunel revolutionised transport with their rail locomotive and steam ships. Frank Whittle revolutionised air travel with the jet engine. Alexander Graham Bell, John Logie Baird and Tim Berners-Lee revolutionised communications with the telephone, television and the worldwide web. Alexander Fleming and Francis Crick revolutionised medicine and biological sciences with the discouvery of penicillin and the double helix. Truly, British scientists and engineers have helped to create the modern world.
And today the UK remains an engineering and manufacturing powerhouse. The next time you catch a flight, look out of the aeroplane window. Consider the wings of the Airbus: made by BAE Systems in the UK; the aircraft engines: made by Rolls Royce in the UK.
Our automotive sector too is thriving. It produced more than 1.5 million cars in 2013, over 80 percent of which were exported. Output is projected to reach 2 million by 2017. South Korea is currently Jaguar Land Rover's fastest growing market globally. Next year you will be able to as Rolls-Royce engines power a UK-designed and built car chasing the dream of travelling at over 1,600 kilometres an hour across the sands of South Africa.
According to the UK's Engineering Employer's Federation our manufacturing sector now accounts for 46% of all UK exports, exceeding 39% for the service sector.
And the UK is also recognised as a nation strong in creativity.
While on the same aeroplane to Beijing, Tokyo or London, which artists will be featured on the in-flight entertainment system? Adele, Coldplay, The Beatles - all British. Perhaps you'll watch a great British film - James Bond or Harry Potter - or one of this year's winners at the Oscars - Gravity or 12 Years a Slave – all British productions. Maybe you will watch a Korean film instead. Seolguk Yeolcha is a film full of British stars, with a British assistant producer, British hair stylists, and with much of the post-production work on the film done by a company based in London.
If you decide to play with your Samsung Galaxy smartphone rather than access the in-flight entertainment, consider that the microprocessors it contains are designed by a British company - ARM. The graphics are probably designed by British company - Imagination Technologies - and many of the apps and games it contains will have been created in one of the clusters of small, high-tech companies around the UK.
And the next time you walk down Garosu-gil, consider that some of the most popular fashions and accessory brands you'll see are British: Burberry, Paul Smith and Cath Kidston to name but a few. These and other British brands were showcased during our GREAT British Festival on Garosu-gil earlier this year.
That event was part of the GREAT Britain campaign - the UK Government's most ambitious international marketing campaign ever. It showcases the very best of what Britain has to offer in order to encourage the world to visit, study and do business in and with the UK.
So what is the UK doing to enable such creativity? Why have we been so successful over the past decade in maintaining the UK as a global leader in engineering, science and creativity? What have we been doing to sustain these developments for the future?
The UK Government lets science follow its own path
In 1918, the 'Haldane Report', named after Lord Robert Haldane, recommended that the decisions for how to use funding for scientific research should be made by the scientists and engineers themselves, rather than by government. We call this the 'Haldane Principle', and it has, by and large, been followed by all British Government ever since.
But even though the UK now recognises the importance of science at the highest levels of leadership, the control of scientific development has remained in the hands of the scientists. What does this mean in practical terms today? Simply put, the UK Government no longer has the ability to directly influence the way that scientific and engineering research funding is awarded or in which fields funding is prioritised.
UK scientists and engineers have the freedom to pursue whatever lines of research they wish, providing that their research work is deemed worthy via evaluation by their peers. It is this freedom which has allowed the UK, in comparison to other countries with far larger science budgets to retain its competitive and creative edge.
The UK's Research Councils, such as the Medical Research Council, the Biotechnology and Biological Science Research Council, and the Engineering and Physical Science Research Council, are run by scientists, for scientists. In 2014, collectively the Government gave the Research Councils £2.7 billion, that's almost $4.5 billion, to support UK research.
But academic research on its own does not guarantee prosperity and a sustainable economy. It is the translation and commercialisation of academic breakthroughs that fosters an economy built on growth and development.
Translating knowledge into the knowledge economy
It has become very clear to me during my time as Ambassador that this has been the area in which South Korea has excelled for the past 40 years and where the UK has plenty of opportunity to learn. Where nations used to look at the UK and the US as models for their development, today many now look rightly to South Korea and seek to imitate the rapid growth that your country has enjoyed.
A good example of South Korea's economic growth as a direct result of research is the Electronics and Telecommunications Research Institute. It could be argued that ETRI almost singlehandedly initiated South Korea's global leadership of the mobile telecommunications industry. There are many other excellent examples of where strategic support for science and its application has supported South Korean global industrial leadership.
Until fairly recently, the UK tended to underperform in this area - of translating important scientific breakthroughs into industrial innovation. As 'traditional' British industries declined in the last years of the twentieth century, faced with cheaper competition from emerging economies, we could not allow this underperformance to continue.
Despite having some of the most famous global brands and products, the UK was losing out to faster, nimbler and smarter companies overseas. It was widely understood that the UK was failing to bridge the 'valley of death', where too many great ideas died before they could be successfully commercialised. We needed to find new ways to provide support to new and innovative companies. Companies with the potential to become a new ARM or Dyson. The UK Government had to address this problem. And it did.
Innovate UK
In 2004 the Government established the Technology Strategy Board to advise the Government on business research, technology and innovation priorities. In 2007 the TSB was restructured and tasked with distributing funding to stimulate innovation and growth. Funded by government, but run as a private entity, the TSB had the flexibility to meet UK business and industry needs.
Now called Innovate UK, it provides a wide range of grants and services to the UK's most innovative companies. It supports them through the difficult transition from research and development to product delivery. It has an annual budget of £440 million, about $700m, to fund its activities.
One of the most important contributions that Innovate UK has made was the establishment in 2010 of the UK's Catapult Centres. Catapult Centres are carefully selected in key areas of economic growth opportunity and priority. The Catapults have been designed to support activity at the crossroads between UK universities, SMEs and large companies.
The Catapult Centres are located on or close to UK university campuses. They provide research space for innovators to work side by side with academics to identify product development solutions. Very often, PhD students work in these collaborations to complete their thesis research. Many of them are then employed by the companies they have collaborated with. So Catapult Centres are incubators, not only for research-intensive companies, but for the highly skilled and educated people needed to make such companies successful.
To date, seven national Catapult Centres have been opened across the UK. They are in high value manufacturing, offshore renewable energy, satellite technology applications, transport systems, future cities, connected digital economy, and cell therapies. Two new Catapults for energy systems and diagnostics for stratified medicine will open soon.
Innovate UK also helps companies to access advice, mentoring, and new information. It has established Knowledge Transfer Networks. These are virtual industry clusters that have been established to promote the exchange of ideas, calls for R&D assistance and help identify potential business partners.
The Knowledge Transfer Partnerships also work to connect these same groups to the UK research community, to help mobilise the academic community to support industry development and growth.
And in fact the UK's Research Councils' and Innovate UK's headquarters are quite literally next-door neighbours: a symbol of this business-driven reduction in the gap between the industry and research communities in the UK.
Research Councils move closer to Industry
But just as industry wants to cooperate more actively with the research community, so too are academics reaching out to industry.
In 2009 the UK Research Councils initiated the Centres for Doctoral Training. Typically funded by up to £50 million of combined Research Council awards and university investment, the Centres for Doctoral Training are designed to support 50 PhD students within a single interdisciplinary field where there has typically been no previous funding. Many of these Centres are run by a consortium of universities, often with industrial partners.
A number of these centres go further still. The Industrial Doctoral Centres have been set up in close consultation with industry partners in a field where there is an acknowledged shortfall in highly specialised human resources. PhD candidates are often industrial researchers looking to complete their academic qualifications while continuing to work for their companies. After an initial period of education at their chosen Centre for Doctoral Training, equivalent to a master's degree, students return to their company to continue their research and to complete their peer-reviewed PhD.
The range of subjects covered is diverse, but typically can be found within materials and computer engineering, such as the Industrial Doctoral Training Centre in Composite Materials at Bristol, Nottingham, Cranfield and Manchester, or the Centre for Digital Entertainment at Bath and Bournemouth.
Earlier this year, the universities of Newcastle and Strathclyde signed final agreements with the Korea Institute for Advancement of Technology (KIAT) and the Korean Shipbuilding Association for the training of Korean industrial and academic offshore engineers in a tailored form of the Industrial Doctoral Centre. The first Korean students are expected to start the programme next year. I hope we can replicate the model in other subject areas.
There are now over 100 Centres for Doctoral Training across the country. So each year the UK is educating 1,000 PhDs in fields that directly support strategic academic and industrial research demand.
Of the standard project calls offered by the Research Councils, many of the direct grants for research funding are now organised in response to industry need, or will directly fund industry participants working in research consortia.
Indeed, as part of the thematic selection workshop for the very first joint funded call between the UK and Korea, supporting research in fuel cell technologies, two UK companies sent representatives to Seoul to participate and network with potential UK and Korean academic partners. This call was launched last month, together with a second call in nuclear decommissioning and radioactive waste management.
There will always be freedom for UK academics to receive funding for high quality fundamental research. But what we are seeing now in the UK is a shift towards closer ties with industry to meet the needs of local demand and to find solutions to global challenges.
In 2003, the Research Councils funded the first of eight consortia and 5 hubs as part of its Sustainable Power Generation and Supply or SUPERGEN initiative. These initiatives are pioneering new technology development via large groups of universities, institutions and companies, often ten organisations or more, to tackle the challenge of meeting the UK's ambitious renewable energy targets. Larger groups working across a broader multidisciplinary field are bringing their collective minds to bear on one on the most important technological problems of our time.
The Hydrogen and Fuel Cell SUPERGEN, based at Imperial College London, recently signed a cooperative agreement with POSTECH. So for this consortium, its impact now crosses borders.
Universities as a catalyst for economic development
These changes to national funding required UK universities to take on more of a 'Fraunhofer' model, where a blend of national funding, competitive grants and industry investment is needed to sustain the university. Ultimately this will make UK universities even stronger and more competitive with other institutions around the world.
The fact is that Britain's educational system is fully geared up for the business world, with curricula reflecting the demands of a fast-changing economy. So I can say with confidence that there is nowhere better in the world to study than the UK. And our world class universities and institutes which are at the heart of the UK's current success.
The recent QS world rankings of top universities identified four of the world's top six universities as being based in the UK. The University of Cambridge and Imperial College London were joint second, closely followed by the University of Oxford and University College London in joint fifth. A further fifteen UK universities were named in the global top 100.
UK Industries have adapted too. Most research driven UK companies are well aware of the same challenges that the Korean chaebol face - it is no longer possible to be successful while conducting R&D behind closed doors. To succeed in the future marketplace universities and companies must choose to collaborate.
Here in Korea, the Samsung Advanced Institute of Technology has run its Global Research Outreach programme since 2009, seeking strategic relationships with researchers around the world. I am delighted that the UK is the second largest recipient country for grants awarded under this programme.
Within its University Technology Centre initiative, Rolls-Royce currently has 41 partnerships with universities around the world, funding subject specific laboratories or in some cases whole university departments. The majority of research is conducted at PhD level, with at least 400 projects running at any one time. Many graduates of these university partners will of course go on to work for Rolls-Royce, but the programme has been designed to be of equal benefit to the university partner, allowing the knowledge generated to be applied to the university's own research.
Many of you I am sure will be aware that Busan National University hosts The Rolls-Royce University Technology Centre Thermal Management technologies.
UK Government Initiatives
The UK Government has taken important steps to capture this momentum through the introduction of national industrial strategies across sectors seen as critical to the UK economy and where strong opportunities lie for the future. This of course will not seem strange to all of you as South Korea has had similar policies in place for many years. But for the UK this represents a significant shift in the way that government supports UK businesses.
I will not list them all, but examples of the industry sectors supported are aerospace, nuclear energy, oil and gas, the life sciences and the information economy.
Although titled 'industrial strategies', each of the individual strategies includes the role of research and education for the development of new technology and human resources. And they are 'live' strategies, constantly under review and seeking opportunities for improvement, taking ideas and recommendations from industry.
And later this year we anticipate the next step, with the publication of the UK's first Science and Innovation Strategy. This document is expected to outline how public funding will be used to support the development of new research infrastructure for areas of existing strength and opportunity.
UK-South Korea creative cooperation
During my time as Ambassador in Seoul I have been delighted to see how the relationship between the UK and Korea has gone from strength-to-strength across a number of areas.
I was incredibly privileged to take part in President Park's State Visit to the UK in November last year.
State Visits to the UK are quite rare: the Queen only invites two Heads of State a year for such visits. President Park's was the second State Visit by a Korean President in less than ten years.
This was no accident. President Park's Visit was a chance to celebrate 130 years since the establishment of diplomatic relations between our two countries in 1883. It was a chance to celebrate a close partnership that is now based on shared political and economic values. Most importantly, it was a chance to lay the foundations for an even stronger political and economic partnership for the next ten years.
During the visit, 24 agreements were signed, with over half being wholly or partially focussed on science, engineering, ICT and creative industries cooperation. Support for bilateral research collaboration was an integral part of the first UK-RoK Joint Economic and Trade Committee.
President Park visited Imperial College London, and witnessed first hand some of the UK's cutting edge technologies. And during the visit the Royal Society and Korea's Institute for Basic Science agreed to hold their first joint symposium which will take place in Seoul next month.
And in closing this speech today, I want to stress the opportunities available to the UK and Korea for collaboration.
The relationship between scientists and engineers from the UK and Korea is going from strength-to-strength. We are building new research collaborations, solving problems together, collaborating to address the great global challenges of our time. And I am sure that the National Academy of Engineering of Korea and all of you in this room will be part of this exciting journey.
Published 8 October 2014