World news story
UK and South Africa further cooperation in the field of English Language
Declaration of Intent builds on British Council work in English sector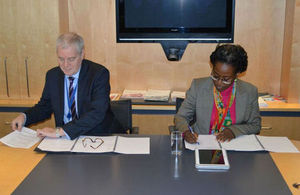 The UK and South Africa have agreed to forge further links in the field of English language education, it was announced today (Wednesday 22 January 2014).
Formalising an agreement between the two countries to explore bilateral partnership and collaboration in the English language sector, British Council Chief Executive, Martin Davidson met Chief Director of the South African Department of Basic Education (DBE), Carol Nuga-Deliwe to sign a Declaration of Intent on English language co-operation.
The signing follows an historic meeting between UK Secretary of State for Education, Michael Gove and South African Minister of Basic Education, Angie Motshekga at this week's Education World Forum.
To be implemented by the British Council in the UK and the Department of Basic Education (DBE) in South Africa, both countries will be working side by side to ensure the Declaration's successful enactment.
Each body will be responsible for facilitating closer links between English language institutions in their respective countries, as well as encouraging the establishment of partnerships and working groups with a view to promoting knowledge-sharing and capacity building.
In having already partnered with the South African Department of Basic Education to support their literacy and numeracy strategy to improve the quality of teaching of English as a First Additional Language (EFAL) in South African state schools, the British Council foresees that the agreement will provide further opportunities to enhance English provision and teaching in the country.
Caroline Grant, English Language Advisor at British Council South Africa, commented: "As the late Nelson Mandela once said, 'Education is the most powerful weapon which you can use to change the world' so it is fantastic to see this Declaration of Intent formalising an important educative collaboration between the UK and South Africa.
"In having already worked alongside the South African government in support of their literacy and numeracy strategy, we have come to realise the importance of investing in education and sharing each other's experiences.
"Mutual learning has in fact allowed us to make marked improvements in English delivery in South Africa to date through the likes of CIPELT and CISELT teacher training whilst staging events like the recent International Language and Development conference in Cape Town has given vital opportunity to share knowledge and build valuable networks in respect of language learning. This Declaration of Intent will allow us to further progress important English language work in the region and ultimately, to grant future generations access to a better education."
The Department of Basic Education and the British Council will be responsible for the strategic direction and implementation of the Declaration of Intent, in close consultation with the Department of International Relations and Cooperation in South Africa and the Foreign and Commonwealth Office in the United Kingdom. The Declaration of Intent will remain in place for five years from the date of signature.
Notes to Editors
For more information, please contact Troy Martens (Department of Basic Education), Cell: +27 (0) 079 899 3070, Email: martens.t@dbe.gov.za
About the British Council
The British Council is the UK's international organisation for educational opportunities and cultural relations. We create international opportunities for the people of the UK and other countries and build trust between them worldwide.
We work in more than 100 countries and our 7000 staff – including 2000 teachers – work with thousands of professionals and policy makers and millions of young people every year by teaching English, sharing the Arts and delivering education and society programmes.
We are a UK charity governed by Royal Charter. A core publically-funded grant provides less than 25 per cent of our turnover which last year was £781m. The rest of our revenues are earned from services which customers around the world pay for, through education and development contracts and from partnerships with public and private organisations. All our work is in pursuit of our charitable purpose and supports prosperity and security for the UK and globally.
For more information, please visit: www.britishcouncil.org. You can also keep in touch with the British Council twitter and British Council blogs.
Published 22 January 2014