UK and Pakistan: shared history, deep partnership, Jang News 24 June
The Foreign Secretary visited Pakistan on 23-24 June.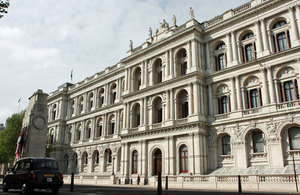 I am making my first visit to Pakistan as Foreign Secretary this week to reaffirm the strategic partnership between our two countries. Our partnership is far deeper than is commonly perceived. It is based on shared history and a myriad of ties between individuals and families and businesses.
Nearly a million British citizens are of Pakistani heritage and 10,000 Pakistanis study in British schools and universities. Over £1 billion /130 billion rupees worth of trade flows between our two countries each year along with hundreds of thousands of visitors travelling in both directions. Five newly-elected members of the British Parliament are of Pakistani origin. These living ties are the lifeblood of our partnership and explain much of its warmth and enduring nature.
Britain takes her role of a long term friend and partner to Pakistan very seriously. During my meetings with Pakistani leaders and opinion formers in Islamabad and Karachi, I said that the new British Government is committed to continuing our relationship, exploring ways in which the UK and Pakistan could work even more closely together and listening to advice about the region as well as offering UK support. As Governments, Britain and Pakistan work closely together and with other partners, including the Friends of Democratic Pakistan, on our common interests in encouraging trade and prosperity, tackling extremism and supporting stability in Afghanistan.
Britain wants to help ensure the democratic, stable and prosperous future that Pakistanis deserve and to work together on international affairs. We pay tribute to the resilience of the Pakistani people and are conscious of their sacrifices and commitment in tackling violent extremism that has affected Pakistani cities as well as others around the world. I know that many people have laid down their lives in that cause and that many thousands of families have been affected.
That is why we are increasing our aid programme in Pakistan to support improvements in development, governance and security. By 2013 we will have committed £665 million in aid over four years, making us the second largest bilateral donor to Pakistan. Our assistance will include a £250 million education programme and £100 million for humanitarian assistance and reconstruction in areas bordering Afghanistan that have been blighted by conflict. Our assistance in these areas is helping to meet critical needs for people displaced by the conflict and also helping those returning to their homes by repairing key bridges, rebuilding schools and getting businesses re-started. Speaking in Pakistan recently, Britain's Secretary of State for International Development Andrew Mitchell said that he was determined to make Pakistan a higher priority, focusing heavily on education. This is the right choice, which I fully support. I have seen for myself the difference that can be made by helping young people get access to education and jobs and the people of Pakistan are the bright hope for its future. Britain will support Pakistan in the difficult challenges it faces in building the strong, democratic and representative institutions on which prosperity and stability rest, and in engaging in further dialogue with its neighbours.
It is also important that we work over time to translate the bonds between our peoples into deeper understanding of each other's culture and traditions and the overcoming of misconceptions which sometimes arise. I welcome the work of the British Council in this area. Their schemes have helped build bridges between young people in 400 British and Pakistani schools. I am also pleased to see the initiatives of the UK-Pakistan foundation which will help foster non- governmental links, not least between our new generations.
The strong enduring ties that exist between the UK and Pakistan will continue to bind our countries together and we look forward to helping Pakistan achieve a better, more prosperous future for its citizens
Published 25 June 2010