World news story
UK and Norway Lead Rainforest Preservation Efforts
Minister Greg Barker spoke at the UN REDD+ Exchange 2013 in Oslo to emphasise UK and Norway joint commitment to fight deforestation.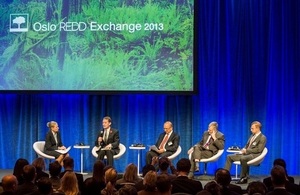 The UK's Minister of State for Climate Change at the Department of Energy & Climate Change (DECC), Gregory Barker visited Oslo on 29 October to represent the UK at the annual UN REDD+ Deforestation conference. The conference was hosted by Norway and included representatives from 60 countries. The UK and Norway are among the leading developed countries pushing the REDD+ initiative. Minister Barker encouraged the private sector to get more involved in the deforestation agenda, and also urged forest nations to show greater ambition and step up delivery on the ground.
Minister Barker used the occasion to encourage strong political commitment from countries at the UN COP 19 in Warsaw. Public investments in rainforest preservation and climate finance can be used to leverage private capital, which is needed to scale up forest finance to the level required for effective emissions reductions. The UK has already invested £300 million in international forestry initiatives and is working with partners to stimulate private sector investment to pick up the pace and scale of the REDD+ deforestation agenda.
While in Oslo, Minister Barker met with representatives from the new Norwegian government covering a wide range of issues including energy, climate/environment, foreign affairs, and finance. Norway's largest daily newspaper, Aftenposten, interviewed Mr Barker about the future of the UK low-carbon energy mix.
Video of Minister Barker at the conference (From menu on the linked page please select Plenary Sessions, REDD+ Negotiations and Finance)
Published 13 November 2013