News story
UK and New Zealand reaffirm commitment to global trade liberalisation
Liam Fox and Lord Price met New Zealand Trade Minister Todd McClay today, strengthening the trading relationship between the 2 countries.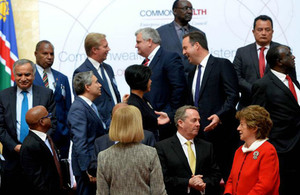 International Trade Secretary Dr Liam Fox and Minister for Trade Policy Lord Price met New Zealand Trade Minister Todd McClay today to reaffirm their joint commitment to global trade liberalisation, and lay the foundations for the future trade relationship between the UK and New Zealand.
International Trade Secretary Liam Fox asserted the importance the UK places on its trading relationship with New Zealand, with total trade in goods and services between the 2 countries increasing by 13% between 2014 and 2015.
The ministers welcomed progress made during the inaugural Trade Policy Dialogue meeting earlier this month.
Mr McClay said,
Our dialogue will enable us to build on our existing trading framework, towards an agreement in the future.
Through the dialogue we will continue to push for greater global trade liberalisation and reform, share expertise, and identify ways to strengthen our trading relationship.
Minister McClay also welcomed the UK's ongoing commitment to be a champion of global free trade. Secretary Fox confirmed his intention to visit New Zealand in the coming months.
Minister McClay also added,
During that visit we will hold a joint public event to highlight the importance and benefits of open markets to our citizens at a time when the global economy is facing a period of uncertainty.
The Secretary of State confirmed that the UK would remain fully supportive of the New Zealand-EU FTA as long as it remained a member of the European Union, and that he was very pleased that the scoping phase had been finalised.
Published 9 March 2017