UK and Nepal unite in mourning the victims of air crash in Kathmandu
Foreign Office Minister Hugo Swire and Nepalese Deputy Prime Minister Narayan Kaji Shrestha have met in New York on the fringes of the UN General Assembly.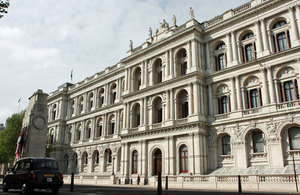 As well as discussing the relationship between the UK and Nepal, the two joined together to pay their respects to those who lost their lives in today's plane crash.
Mr Swire said:
"Our thoughts and sincere condolences are with everyone involved in or affected by the tragic air crash in Nepal earlier today.
"The UK is working closely with the Nepalese authorities to investigate the accident. I have spoken to our Ambassador in Nepal this morning, and have been reassured that we are doing everything possible to support the victims' families and find out what happened.
"I would like to thank the Nepalese emergency services for all they have done."
Published 28 September 2012