World news story
UK and Kenya commit to greater cooperation on defence and security
UK and Kenya commit to greater cooperation on defence and security issues at UN General Assembly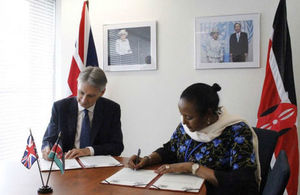 In a meeting today at the United Nations General Assembly (UNGA), UK Foreign Secretary Philip Hammond met with Kenyan Cabinet Secretary for Foreign Affairs Amina Mohamed to discuss greater UK – Kenya cooperation on defence and security issues. This followed yesterday's high level meeting between Prime Minister David Cameron and H.E. President Uhuru Kenyatta, the first such meeting since President Kenyatta attended the London Somalia Conference in May 2013.
The meeting enhanced the longstanding partnership between Kenya and the United Kingdom through the announcement of two new mutually beneficial security agreements.
Both countries committed to a new Defence Co-operation Agreement, subject to final ratification in both Parliaments. The agreement will significantly boost the defence relationship; enabling the UK to provide additional support to Kenya on maritime security, and continued British military training in Kenya. The new agreement will result in improved military capabilities for both sides; and allow for concurrent jurisdiction, recognising that the laws of both nations apply to visiting forces.
The Foreign Ministers also signed a new security compact between the two countries, underlining the UK and Kenya's resolve to tackle the shared threat of terrorism. The compact builds upon and strengthens existing security co-operation across areas such as Countering Violent Extremism (CVE), Border and Aviation Security, and Criminal Justice.
Areas of enhanced cooperation would include the UK and Kenya working together to open a new centre to provide technical training to deal with improvised explosive device (IEDs). The agreement highlights the importance of working with communities to address the underlying causes of conflict, and the development of an integrated cross-government approach to tackling insecurity. The Compact also includes a new annual senior-level strategic dialogue, to review progress against objectives.
Foreign Secretary Philip Hammond said:
"The relationship between the United Kingdom and Kenya is historic and one that I value greatly.
Today we have held discussions which will help us tackle joint security challenges, benefitting both the UK and Kenya. Given the number and diversity of security threats faced by peaceful societies in the 21st century, close co-operation between partner nations is more necessary than ever before."
Published 30 September 2015