World news story
UK and Japan hold first talks on industrial policy
The British and Japanese Governments held their first Industrial Policy Dialogue in Tokyo on Wednesday 13th December, discussing their respective industrial strategies and practical collaboration on five key themes.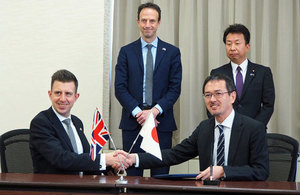 The new series of talks was agreed between Prime Minister May and Prime Minister Abe during their meetings in Japan in August.
The talks were co-chaired by Mr. Masaki Ogushi, Parliamentary Vice-Minister of the Ministry of Economy, Trade and Industry of Japan (METI) and Mr. Alex Chisholm, Permanent Secretary of the Department for Business, Energy and Industrial Strategy of the United Kingdom (BEIS).
Topics of discussion included the opportunities emerging from the UK's recent publication of its Industrial Strategy as well as the international context for both countries' industries, and shared challenges such as productivity and demographic change.
The meeting also identified areas for further work to support UK-Japan industrial collaboration in 5 key areas: space, aviation, energy and climate change, advanced manufacturing and the bio-economy. BEIS (on behalf of UK Space Agency) and METI agreed to collaborate on a "Japan-UK Space Debris Industry Initiative", to enhance information exchange on space debris, and support private sector engagement with this key challenge.
BEIS Permanent Secretary Alex Chisholm said,
The launch of the UK-Japan Industrial Policy Dialogue adds an important new pillar to our countries' relationship, allowing us to coordinate more closely on industrial strategy, and support our industries to collaborate and grow together, for a better future.
Japanese businesses are hugely important to the UK; their investment in the UK in sectors from automotive to life sciences, cybersecurity to artificial intelligence have been transformative for the UK, so it is not surprising that our economies are closely interconnected. I am delighted to have co-chaired today's important discussions on how the UK and Japan can collaborate more closely.
The UK and Japan face the same global challenges; a changing demographic, digitalisation and the drive towards clean growth – and so our responses are naturally aligned. What's more, industrial collaborations across a wide range of innovative sectors could add billions of pounds to our economies and benefit our societies.
Published 15 December 2017