UK and Italian Defence Ministers meet
The UK's Defence and Foreign Secretaries today met with their Italian counterparts at the Foreign and Commonwealth Office to discuss the ongoing working relationship of the two nations as part of the International Security Assistance Force (ISAF) in Afghanistan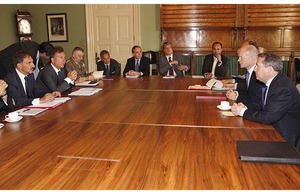 Dr Liam Fox and William Hague met with Italian Defence Secretary Ignazio La Russa and Foreign Minister Franco Frattini to highlight the UK's appreciation for Italy's contribution in Afghanistan.
The Italian national main effort is to support ISAF with over 3,000 personnel in Three Task Forces and, as part of the reinforcement promised by the end of 2010, an additional Task Force will be deployed to southern Afghanistan, taking the manning total to 4,000.
This deployment has already started - one Company has arrived in theatre and is conducting familiarisation training.
It is thanks in part to this uplift that commanders on the ground have been able to rebalance the forces in Helmand province, including the eventual redistribution of UK troops from Sangin.
Italy is also deploying some additional Carabinieri to Afghanistan to strengthen police mentoring and training.
By the end of 2010, Italy will be the fourth largest contributor (with France) to ISAF, with almost 4,000 troops deployed.
Today's wide-ranging discussions included agreeing the importance of the outcomes of the Kabul Conference made earlier this week and investigating how progress can be made in the mission in Afghanistan over the coming year.
They also discussed the UK/Italian trade relationship. Italy is one of Britain's largest trading partners, particularly in the defence industry sector, and will be an important partner in the commitment towards inward investment which is at the heart of the UK's economic recovery plans.
Published 21 July 2010