World news story
UK and Israel ties boosted by new medical research funding
£3.2 million of funding for eight joint medical research projects by British and Israeli scientists were announced today.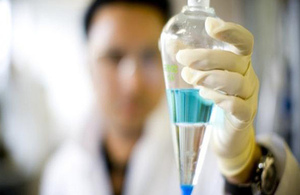 In each project, UK and Israeli research institutions will work together on new three-year bilateral projects that use stem cells. The projects aim to develop therapies for diabetes, heart disease, Parkinson's disease, liver disease, and Multiple Sclerosis.
The new researches are the latest additions to BIRAX (Britain Israel Research and Academic Exchange) programme, a £10 million joint initiative of the British Embassy and the British Council in Israel. The programme invests in world-leading research jointly undertaken by scientists in Britain and Israel.
The Rt Hon David Cameron MP, Prime Minister of the United Kingdom said: "The United Kingdom is proud to be Israel's partner in science. In so many areas our scientists are working together and engaged in some of the most significant projects of our age. This programme is about our world-class scientists and foundations collaborating to tackle some of the most challenging health conditions facing the world today, from heart disease to Parkinson's and diabetes. Their research has the potential to change the lives of hundreds of millions of people."
Matthew Gould, British Ambassador to Israel, said: "Science is right at the heart of the UK-Israel relationship. Top British and Israeli scientists are already collaborating to develop cures to some of the most awful diseases. I am delighted that so many medical research powerhouses have now given their support to this collaboration. The new projects we are announcing today have the potential make a real difference to the lives of people who suffer from diabetes, heart disease, liver disease, multiple sclerosis and Parkinson's disease."
Alan Gemmell, Director of the British Council in Israel, said: "BIRAX combines the best of what Britain and Israel can offer the world; world-class scientists working together to improve the lives of millions of people. When the UK's education and research sectors engage with Israel, the benefits go beyond our two countries and can be truly universal"
Professor Raymond Dwek, Director of Glycobiology Institute at Oxford University and Chair of the UK-Israel Science Council, said: "Every now and then a technology breakthrough in science holds promise for dramatic progress in disease therapy and cures. The BIRAX initiative which is supported by leading scientists in the UK has focussed on stem cell therapies with this goal and acknowledges that the UK science base is complemented by the outstanding work in this area in Israel. This combination offers real hope of substantial progress in many disease areas.
"The quality of the scientists involved and the different areas of medicine which could benefit as a result of their research will be for the benefit everyone - something that a global university like Oxford supports strongly", Prof Dwek added.
Funding will be awarded to eleven leading universities in Britain and Israel where the researches will take place: Cambridge, Cardiff, Edinburgh, Manchester, Nottingham, and Oxford, and Hadassah – Hebrew University, Hebrew University of Jerusalem, MIGAL – Galilee Research Institute, Technion -Israel Institute of Technology and the Weizmann Institute.
For the first time, four leading medical research charities are working together to fund world-class science between Britain and Israel that investigates globally challenging conditions and diseases.
The British Heart Foundation, type 1 diabetes charity JDRF, the MS Society and Parkinson's UK are the major contributors to a £3.2 million new research programme for leading universities across Britain and Israel.
Published 11 February 2015