Press release
UK and Indian partners agree more than 30 new education and research deals, after PM takes biggest ever education delegation to India
Joint UK India research programmes have gone from £1 million in 2008 to over £100 million today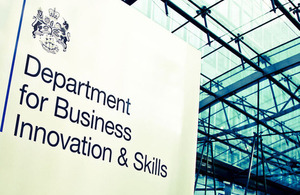 As part the Prime Minister's trade mission to India this week, UK and Indian education and research institutions have agreed a raft of new joint ventures. Joint UK India research programmes have gone from £1 million in 2008 to over £100 million today.
British universities have hugely increased the level of collaboration with their Indian counterparts.
The new deals include establishing a new Chemical Biology and Therapeutics Institute in India; major collaborations on neuroscience; research partnerships in energy, medicine, business and manufacturing and English language training for 1.5 million teachers in India by 2017.
The delegation accompanying the Prime Minister included Universities and Science Minister David Willetts and representatives from leading UK universities, colleges and institutions, who met counterparts in India to discuss how to deepen these links even further.
On Monday the education delegation visited St Xavier's College, Mumbai, to hold a roundtable discussion on education and employment and on Tuesday there was a further roundtable on innovation and education followed by a visit to Janki Devi Memorial College in Delhi.
During the summit Prime Ministers Cameron and Singh also announced the third call for proposals under the UK India Education and Research Initiative (UKIERI), which has supported 200 partnerships since 2010.
Universities and Science Minister David Willetts said:
This impressive range of announcements makes clear the breadth and strength of the UK and India's education and research links. Both countries can benefit immensely from sharing expertise and resources in this way – boosting education, research and business.
Our trip to India allowed us to further deepen our relationship and help to realise its full potential.
Dr Joanna Newman, Director of the UK Higher Education International Unit at Universities UK, said:
This is the largest higher education delegation which has accompanied the Prime Minister to India. It showcases the strength of UK higher education and our commitment to deepen our engagement.
There is already close collaboration on innovation in teaching, research, developing links with industry as well as through two-way staff and student exchanges. This visit has enabled us to develop these connections further.
Prof Paul Boyle, RCUK's International Champion, said:
I am thrilled to note the progress that we at Research Councils UK have made with our partners in India. We are particularly proud to be partners in our attempts to address key global challenges that range from food security, climate change, energy, health and economic and social research.
The new UK-India collaborations include:
Research
Several joint research programmes including smart energy grids and energy storage (£10 million), bioenergy (£10 million), advanced manufacturing (£6 million) and livestock (£10 million).
The University of Cambridge and the Government of India Department of Biotechnology are establishing a Centre for Chemical Biology and Therapeutics (CCBT) – investing £11 million over five years.
A jointly-funded programme between the UK's Technology Strategy Board (TSB) and India's Global Innovation and Technology Alliance (GITA) will support innovative businesses working together on commercialisation of research in areas such as smart energy and healthcare technologies.
A major new initiative in neuroscience between the University of Edinburgh and the Institute of Stem Cell Biology and Regenerative Medicine in Bangalore.
Cardiff University is partnering with the University of Hyderabad and LV Prashad Eye Institute in Hyderabad to share best practice in the teaching of optometry in the UK and India
The British Library is launching Mewar Ramayana online – a major collaborative partnership with a number of Institutions in India to create a website enabling researchers and the public to access the full 17th century manuscripts.
Warwick Business School (WBS) will establish a global energy research centre in conjunction with the Batra Group. The WBS also plans to open an office in Delhi in 2014 to coordinate research activity.
There are plans to fund UK-India 'Knowledge Transfer Partnerships', bringing together academic institutions with businesses, giving them the access to the skills and expertise to support UK-India business collaborations.
Education and skills
The London School of Economics (LSE) will expand its research programme on gender equality with Tata Institute of Social Sciences to the level of £4 million jointly, double the current level.
A new English language package provided by the British Council will train 1.5 million teachers in India by 2017.
The Open University is to train one million teachers in India through its £10m Teacher Education through the school-based support in India project (TESS-India).
The Royal Institution of Chartered Surveyors will be launching its pioneering RICS School of the Built Environment, Amity University in April. The School will help equip 15,000-20,000 professionals over the next three to five years.
International students, including those in India, will now have free access to the UK's top universities through Massive Open Online Courses (MOOCs). The Universities of Bath, Leicester, Nottingham, Reading and Queen's University Belfast, as well as the British Library, are the latest institutions to join the programme.
As part of a partnership between AoC India and the Ministry of Human Resource Development, 25 UK colleges will be partnered with 25 Indian community colleges to build capacity in leadership development, teaching expertise, curriculum development and apprenticeships.
The University of Warwick is launching a suite of joint PhD and masters degrees in engineering in partnership with IIT Bhubaneswar.
The LSE is making 50 new scholarships available to Indian students looking to complete Masters degrees.
The University of Exeter is offering 14 full scholarships for Indian students to attend its International Summer School in July-August 2013, worth £32,000 in total.
Warwick Business School (WBS) has signed an agreement with the Indian Institute of Management, Ahmedabad (IIMA) to enable graduate students of the Postgraduate Programme for Executives at IIMA and the Warwick MBA to study at each other's institute.
The University of Southampton is working with the Tata Institute of Social Sciences (TISS) in Mumbai, who will host the first ever International Social Enterprise Camp. A group of 30 students from Southampton will travel to work with 30 Indian students for the first camp in April 2014.
The Association of Colleges (AoC) India and the Confederation of Indian Industries (CII) signed an MoU to create partnerships between UK FE Colleges and key Indian industries to facilitate sharing best practice in education, training and skills development.
The UK India Business Council (UKICB) is collaborating with Tata to establish a 50,000 capacity skills training centre in Orissa, India, supporting both large employers and the supply chain consisting of local businesses.
A4e exchanged an MoU with Apollo Medskills to skill 5,000 people as patient care assistants. This is a pilot project aimed at candidates aged 18-35 in Hyderabad, Shillong, Bihar and Chennai.
Notes to editors
1.India country fact file
Half of India's 1.2 billion population is under 25 and 12 million people join the labour market each year.

The Indian Government has begun a major programme to improve quality and capacity in its education system. It aims to create 40 million new university places and train 500 million students in the next decade.

The UK India Education and Research Initiative (UKIERI), phase two of which was launched by the Prime Minister and Prime Minister Singh at the last UK-India summit in 2010, has made skills a top priority. Since 2010, over 200 new UKERI partnerships have been supported across the areas of education leadership, innovation in higher education, skills and student mobility – including opportunities for British students to work and study in India.

The value of the education sector is estimated at $40 billion, with potential to grow by 16 pre cent a year.

It is estimated that India spends around $13 billion on all forms of international education.

India's spend on research is expected to double over the next five years.
2.British education exports are worth £14 billion and could be worth around £21.5billion in 2020.
3.The education and research delegation on the Prime Minister's trip to India includes:
University of Cambridge, Prof Sir Leszek Borysiewicz, Vice-Chancellor
The Open University, Prof Martin Bean, Vice-Chancellor
London School of Economics, Prof Craig Calhoun, Vice-Chancellor
University of Warwick, Prof Nigel Thrift, Vice-Chancellor
University of Southampton, Prof Donald Nutbeam, Vice-Chancellor
University of Cardiff, Prof Colin Riordan, Vice-Chancellor
University of Exeter, Prof Sir Steve Smith, Vice- Chancellor
Universities UK, Joanna Newman, Director
Association of Colleges, John Mountford, International Director
West Nottinghamshire College, Asha Khemka, Chair of AoC India Partnership Group
Bournville College, Norman Cave, Principal
New College Nottinghamshire, Amarjit Basi, Principal
The British Library, Roly Keating, Chief Executive
British Council, Martin Davidson
UK India Skills Forum, Roy Newey, Chair
4.RCUK India was established in 2008 with an aim to bring about a step change in research partnerships between the two countries and make it easier for the best researchers in the UK and India to develop high-quality, high impact research partnerships. Since its launch RCUK India has facilitated joint research collaboration between the UK, India and third parties to the value of over £100 million compared with £1 million in 2008. www.rcuk.ac.uk/india
5.Smart Energy Grids and Energy Storage http://www.rcuk.ac.uk/international/Offices/OfficeinIndia/indianews/2012news/Pages/SmartEnergy.aspx
Having an energy infrastructure that is fit for purpose is of fundamental importance to both the UK's and India's low carbon future. As both countries move forward the use of low carbon energy generation is likely to increase. This will result in significant differences in the supply and demand patterns and will therefore present challenges to the energy system.
Given these strong alignments, the Research Council's UK Energy Programme (RCUK) and the Indian Department of Science and Technology (DST) have committed to work together, facilitated by Research Councils UK India and the Science and Innovation Network, India.
Both RCUK and DST play a pivotal role in promotion of science and engineering in their respective countries. This will be the fourth area of energy collaboration between the two partners. RCUK and DST expect to commit up to £5 million each on collaborative research projects. The successful projects will be announced in April 2013. http://www.rcuk.ac.uk/energy, www.dst.gov.in
6.Advanced Manufacturing http://www.rcuk.ac.uk/international/Offices/OfficeinIndia/indianews/2012news/Pages/120702.aspx Manufacturing is a top priority in both the UK and Indian plans for economic growth. In 2011, India launched a National Manufacturing Policy that aims to increase manufacturing activity from a current 16 per cent GDP to 25 per cent by 2022. This equates to a growth rate of 12-14 per cent per year, and aims to generate 100 million new jobs. The UK's coalition government has also placed manufacturing at the heart of the economic recovery, and has published a series of policy announcements and reviews on the subject.
Given the shared interests of the UK and India in supporting their high value manufacturing industries, the UK Government is committing up to £3 million (with matched funding from Indian Government on collaborative research programmes). The successful projects will be announced in April 2013. http://www.epsrc.ac.uk/manufacturing, www.dst.gov.in
7.Applied Mathematics http://www.rcuk.ac.uk/international/Offices/OfficeinIndia/events/Pages/AppliedMath.aspx The UK's Engineering and Physical Sciences Research Council (EPSRC) and the Indian Department of Science and Technology (DST) are working together to create opportunities for UK-India research collaboration in applied mathematics, facilitated by Research Councils UK India.
A meeting between senior members of the mathematics research communities from the two countries took place in 2013, hosted by the International Centre for Mathematical Sciences (ICMS) in Edinburgh. The delegations were led by Prof Keith Ball (Scientific Director, ICMS) and Prof Dinesh Singh (Vice Chancellor, University of Delhi).
Focusing on the scientific strengths that the two countries bring to this potential partnership, the UK's strength in Industrial Mathematics and India's strength in Applied Mathematics were highlighted as areas for potential collaboration between the two countries.
EPSRC and DST are in discussions about the ideas and thoughts discussed at the meeting, and the next steps for UK-India collaboration in this research area are being finalised. http://www.epsrc.ac.uk/ourportfolio/themes/mathematics/Pages/sciences.aspx, www.dst.gov.in
8.PhD Partnering Programme http://www.rcuk.ac.uk/international/Offices/OfficeinIndia/indianews/2012news/Pages/120716.aspx Improving mobility at the doctoral level is an important factor in facilitating cross border research collaboration. It also offers benefits to doctoral researchers in terms of intellectual development, career progression, access to existing and emerging world class facilities and access to comparative research and populations.
The UK's Economic and Social Research Council (ESRC), the UK-India Education and Research Initiative (UKIERI) and the Indian Council for Social Science Research (ICSSR) are committed to providing opportunities, for postgraduate students to build strong, sustainable networks.
The long-term ambition is that these PhD Partnerships will foster the development of small multinational teams of early career researchers with a desire to work together beyond their PhDs. A number of awards have been made, and these will be announced shortly. http://www.esrc.ac.uk/, http://www.ukieri.org/, http://www.icssr.org/
9.BBSRC-DBT collaboration on Bioenergy, Animal Health and Crop Genomics http://www.bbsrc.ac.uk/, http://dbtindia.nic.in/index.asp The UK's Biotechnology and Biological Sciences Research Council (BBSRC) and India's Department of Biotechnology (DBT) are working on three areas of mutual national importance. These are:
Sustainable Bioenergy and Biofuels
Farmed Animal health and Disease
Crop Genomics
10.Sustainable Bioenergy and Biofuels http://www.rcuk.ac.uk/international/Offices/OfficeinIndia/events/Pages/BBSRC-DBT.aspx http://www.bbsrc.ac.uk/funding/opportunities/2012/sustainable-bioenergy-biofuels.aspx
Research towards the development and implementation of advanced (second generation and beyond) sustainable bioenergy and liquid biofuels is of global importance. BBSRC and DBT recognise that each organisation has made significant investments in sustainable bioenergy research; moreover each organisation wishes to further strengthen and diversify their bioenergy portfolios.
A UK-India workshop was held in India in October 2011, this led to a joint call for proposals with a provision of up to £10 million of joint funding. Successful awards will be announced in May 2013.
11.Farmed Animal Health and Disease http://www.rcuk.ac.uk/international/Offices/OfficeinIndia/events/Pages/bbsrcdbt.aspx http://www.bbsrc.ac.uk/funding/opportunities/2013/farmed-animal-disease-health.aspx Endemic and exotic diseases of farmed animals have significant global impact in terms of high economic costs and animal welfare, and reducing this impact is of major importance. In addition, emerging pathogens are increasingly recognised as a threat to biosecurity, public health and food security. BBSRC and DBT recognise that each organisation has made significant investments in livestock disease and health research; and each organisation wishes to strengthen and diversify their portfolios by combining the research strengths of two countries.
A UK-India workshop was held in India in February 2012, this led to a joint call for proposals with a provision of up to £10 million of joint funding. Successful awards will be announced in September 2013.
12.Crop Genomics http://www.rcuk.ac.uk/international/Offices/OfficeinIndia/events/Pages/CropGenomics.aspx Through this initiative, BBSRC and DBT wish to address the growing global concern of food security through facilitating research on improving the characteristics of crops of global importance.
A UK-India workshop was held in Norwich, UK in May 2012, which brought together crop genomics experts from both countries who explored areas of mutual interest and priority for further research. As a result, both BBSRC and DBT are in discussions to announce a joint call for proposals in April 2013.
13.The Open University launched the UK's first Massive Open Online Course (MOOC) in December last year. Called FutureLearn, it allows people to access online learning from the OU. The courses are not accredited but it could open the way for people who want to get some experience before they apply to a full university course. The existing partners are the universities of: Birmingham, Bristol, Cardiff, East Anglia, Exeter, King's College London, Lancaster, Leicester, The Open University, St Andrews, Southampton and Warwick.
14.UKIERI is a £5 million a year partnership between the UK and India. It is funded by BIS, FCO, British Council, the devolved administrations and Indian Government Departments. It is now in its second phase, which runs from 2011-2016.
In phase 1 (2006-2011) UKIERI committed over £25 million through three main strands of higher education and research, schools and professional and technical skills.
Over 200 partnerships have been supported since 2010.
At this summit, the Prime Minister is launching the 2013 UKIERI calls for proposals for the third round. These include Knowledge Transfer Partnerships to place our top university researchers from both countries in SMEs to help them bring their innovations to market.
Some key success through UKIERI: * Partnership between University of Exeter, UK and National Institute of Advanced Studies, India to establish a new PhD programme in Drama offering a unique split site research degree programme. * Partnership between University of Cambridge, UK and Indian Institute of Technology Delhi, India - to develop scalable and inexpensive methods of production for clever nanophotonic materials and devices using self assembly methods. * An Economic and Social Research Council (ESRC) PhD Partnering Initiative – developed and delivered by UK and Indian Higher Education Institutions to develop and deliver Joint masters or split site PhD's through institutional partnerships.
15.The Technology Strategy Board (TSB) is UK's innovation agency. Its aim is to accelerate economic growth by stimulating and supporting business-led innovation. More information on the TSB at: http://www.innovateuk.org/
The Global Innovation and Technology Alliance (GITA) is a Not-for-Profit (Section 25) PPP Company, promoted jointly by the Confederation of Indian Industry and the Technology Development Board, Department of Science & Technology, Government of India. GITA works to strengthen India's innovation ecosystem through supporting and enabling technology and innovation driven enterprises. More information on GITA at http://www.gita.org.in/
16.The British Council is now contracted to supply English teacher training to 11 Indian States. Their aim is to supply training to all 28 States, with three more coming on board in 2014, training 1.5 million teachers by 2017.
Innovative British companies, including Pearson and Vodafone, are launching mobile English learning apps, so that they can reach the widest possible market in India, and are well placed to offer further educational products.
The Indian Government has asked the British Council to install its English language software on its flagship Akash tablet initiative, putting British Council products into the hands of 20 million children. The British Council will launch a Kitemark certifying English language providers that meet benchmark standards. This will help Indian customers identify quality products and services.
17.At the end of January 2013 seven Sector Skills Councils visited their UK counterparts in a trip organised by the National Skills Development Corporation (NSDC) in India and the UK Commission for Employment and Skills (UKCES) in the UK. The trip was funded by UKIERI and was a considerable success. A direct outcome has been the completion of two MoUs with more to follow. The MoUs will deliver a closer working relationship on delivering skills training in the Healthcare sector, a priority sector for the bilateral relationships, and in gems and jewellery production and important sector in India's large informal economy. The MoUs will be exchanged in association with this summit. The MoUs being exchanged as part of this trip are:
18.The government's economic policy objective is to achieve 'strong, sustainable and balanced growth that is more evenly shared across the country and between industries'. It set four ambitions in the 'Plan for Growth' (PDF 1.7MB), published at Budget 2011:
To create the most competitive tax system in the G20
To make the UK the best place in Europe to start, finance and grow a business
To encourage investment and exports as a route to a more balanced economy
To create a more educated workforce that is the most flexible in Europe.
Work is underway across government to achieve these ambitions, including progress on more than 250 measures as part of the Growth Review. Developing an Industrial Strategy gives new impetus to this work by providing businesses, investors and the public with more clarity about the long-term direction in which the government wants the economy to travel.
Published 20 February 2013