News story
UK and India relationship 'beneficial not just for our own countries, but for the world'
The Rt. Hon David Cameron MP, is in Bangalore today at the start of a two-day official visit to India.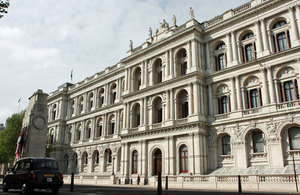 The British Prime Minister, the Rt. Hon David Cameron MP, is in Bangalore today at the start of a two-day official visit to India. Mr Cameron is accompanied by six UK government ministers and a delegation of 58 leaders from UK business, sports, education, arts and culture and local government.
Writing in The Hindu, the Prime Minister set out UK-India's shared agenda:
"It's a real pleasure to be back in India. This is my third trip here and with each visit, time seems to have leaped forward by decades in just a few years. It is exhilarating to see a country growing at super-speed before your eyes. But I'm not just here to enjoy the energy of this country. I'm here with a very clear purpose: to renew the relationship between India and Britain - to re-launch a relationship that is stronger, wider and deeper. Both our countries have talked about it long enough. Now it's time to turn those words into reality.
"To show how serious I am, I have brought with me the biggest visiting delegation of any British Prime Minister in recent memory: members of my cabinet, industry leaders, top businessmen and women, figures from the arts, sports and local government. We're all here to make the case that this deeper relationship will be beneficial not just for our own countries, but for the world."
In Bangalore, the Prime Minister will call on the Governor of Karnataka and visit Infosys, where he will make a keynote speech. Mr Cameron will tour the Hawk facility at Hindustan Aeronautics before departing for New Delhi. In Delhi, the Prime Minister will have a Guard of Honour at the Rashtrapati Bhavan and then lay a wreath at the Raj Ghat. Mr Cameron will meet President Mrs Pratibha Patil; Vice President Mr Hamid Ansari; Mrs Sonia Gandhi, Chairman of the United Progressive Alliance and Mrs Sushma Swaraj, BJP, Leader of the Opposition in Lok Sabha.
Mr Cameron will attend the UK-India Summit talks with Indian Prime Minister Dr Manmohan Singh. He will also meet with ministers of the Government of India and Indian business leaders, and attend the UK-India Economic Summit.
Mr Cameron is joined by UK government ministers: William Hague, Secretary of State for Foreign and Commonwealth Affairs; George Osborne, Chancellor of the Exchequer; Vince Cable, Business Minister; Jeremy Hunt, Secretary of State for Culture, Olympics, Media and Sport; Gregory Barker, Minister of State for Energy and Climate Change and David Willetts, Minister of State for Universities and Science.
Published 27 July 2010