UK and Gulf Ministers meet to forge deeper ties
As part of their commitment to elevating relationships with the Gulf States, UK Ministers from across Government met counterparts from the Gulf at the Foreign Office yesterday.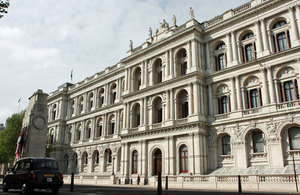 They discussed the progress that has already been made since the Coalition Government took power. This includes the establishment of the UK-UAE Task Force, the signing of a UK-Kuwati Memorandum of Understanding on Security Co-operation, and the forthcoming State Visit of the Emir of Qatar.
They stressed the opportunities in the near future and the need to build on achievements. The meeting was one of a number of events being held around London to deepen and widen co-operation between the UK and Gulf States, including the "GCC Days in Europe Expo" and a series of key trade events.
After the meeting, Foreign Secretary William Hague said:
"I am delighted that the Coalition Government's efforts to elevate the UK's relations with the Gulf States are already bearing fruit. This week's events illustrate the depth of our relationship and I was glad be able to discuss progress with Gulf Ministers and Ambassadors. I am confident that together we will build on this momentum.
Before the end of the year the Emir of Qatar will undertake a State Visit to the UK, Her Majesty the Queen will make a State Visit to Oman and the UAE, and we will host the Two Kingdoms Dialogue with Saudi Arabia. We are enthusiastic about strengthening relations across the Gulf and serious about realising results on issues that are of mutual importance, from increasing trade and investment, to furthering research and development of future energy sources. This is what we are starting to see, and I look forward to more progress in the coming months and years."
Published 21 October 2010