UK and Greece: partnership and co-operation
Foreign Secretary William Hague meets Greek Foreign Minister Dimitris Droutsas for talks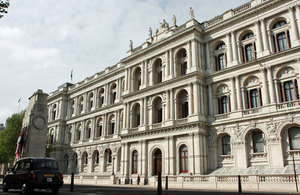 Speaking after the meeting on 16 February, the Foreign Secretary said:
"It was my great pleasure to welcome Foreign Minister Dimitris Droutsas to London today.
"Britain and Greece have a long history of partnership and co-operation. When we work together, we achieve results which benefit our mutual prosperity and security as demonstrated in our cooperation on counter-terrorism and our common support for international efforts to bring stability and security to Afghanistan.
"Our discussions focused on our shared priorities including: supporting and encouraging a Cyprus settlement, European enlargement to countries of the Western Balkans and Turkey and our shared commitment towards renewed urgency on taking forward the Middle East Peace Process.
"I am confident that our talks today will enable us to build on our already strong relationship over the coming years."
Published 16 February 2011