UK and French troops increase interoperability
British and French airborne forces took part this week in an exercise to simulate how they would plan and execute a joint mission.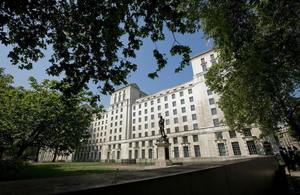 Following the announcement of a Defence Co-operation Treaty between the two countries in 2010, exercises have been taking place in both the UK and France to increase the standard of interoperability for the future.
Exercise Citadel Guibert, which took place in Reims, France, was a key stepping stone in developing the relationship between 16 Air Assault Brigade and 11e Brigade Parachutiste (11e BP), which is at the forefront of closer military co-operation between Britain and France.
Both brigades provide their armies' rapid reaction forces, held at high readiness to deploy on operations anywhere in the world. They have been tasked to develop an Intermediate Combined Joint Expeditionary Force (i-CJEF) for contingency operations, ranging from disaster relief to war-fighting, which is due to be ready to deploy from Spring 2013.
Exercise Citadel Guibert saw staff from the two brigades' headquarters working side-by-side to practise command and control of an operation to stabilise a region troubled by international disputes, terrorism and humanitarian problems.
Colonel Jacko Jackson, Deputy Commander of 16 Air Assault Brigade, said:
This exercise has been a massive waypoint in developing the i-CJEF. It is the first time we have done combined planning with 11e BP and practically demonstrated our joint capability for the missions that could be asked of us.

As brigades, we are similar in structure and role, but take different approaches to get to the same place. It has been a challenge for us to understand each other's methods, but we are realising where the common points are and developing personal relationships to smooth the process.
Colonel Xavier Vanden Neste, Deputy Commander of 11e BP, added:
We are the leaders in the relationship between our two countries' militaries and, after a year of hard work, we will soon be ready to go on operations together.

Citadel Guibert has given us the chance to work through a theoretical joint mission, understand the similarities and differences between us, and prove that we would be able to operate together.
It has also been an enjoyable experience. As brigades we share a common ethos, built around strong and robust soldiers trained to get onto the battlefield by air and, through Afghanistan and NATO, are used to multinational operations.
The i-CJEF is based on a lead-nation approach with one nation providing the majority of the troops and command structure, depending on the operational and political situation.
As well as integrating headquarters, units have carried out joint field training in both countries.
3rd Battalion The Parachute Regiment trained at the French CENZUB urban warfare complex alongside the tanks of 1er Regiment de Hussards Parachutistes, while 8e Regiment de Parachutistes d'Infanterie de Marine trained in Otterburn with 5th Battalion The Royal Regiment of Scotland.
The final step in validating the i-CJEF will be Exercises Joint Warrior and Fortel, taking place in Scotland and France respectively in early 2013, which will test the whole force through planning and field training.
Published 19 October 2012