News story
UK and French Transport ministers meet
Jo Johnson meets French Transport Minister Elisabeth Borne for a productive exchange of ideas.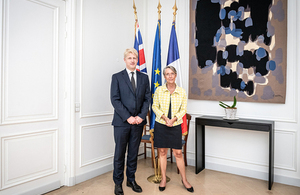 UK and French Transport Ministers Jo Johnson and Elisabeth Borne met in Paris today (19 July 2018) for a productive and cordial exchange of ideas and perspectives, following the implementation of the UK-France Sandhurst Summit declaration last January.
The ministers shared their experiences on a wide range of transport issues, building on the long-standing relationship between the UK and France. Minister Borne outlined plans to modernise the transport infrastructure in Paris and across France. Minister Johnson shared UK experience from London 2012 as France prepares for their 2024 Olympic Games, with a particular focus on developing existing transport links.
The ministers renewed their shared commitment to low carbon sustainable mobility, which was cemented last January at the UK-France Sandhurst Summit, when our two countries agreed to work together on zero-emissions vehicles. They agreed to continue their constructive dialogue and to remain close partners and voisins.
Published 20 July 2018