UK and French ships rendezvous off Libyan coast
Attack helicopter ships from the British and French navies have met up off the coast of Libya in a practical demonstration of the UK-French Defence Co-operation Treaty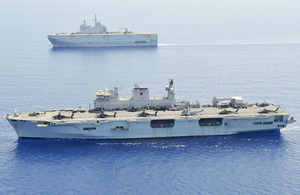 HMS Ocean, the Royal Navy's helicopter carrier, and her French counterpart, Mistral, a Marine nationale (French Navy) projection and command ship, are both operating attack helicopters as part of the NATO-led Operation UNIFIED PROTECTOR, enforcing UN Security Council Resolution (UNSCR) 1973 to protect Libyan citizens. Mistral recently took over operations from her sister ship Le Tonnerre.
When British Prime Minister David Cameron and French President Nicolas Sarkozy signed the Defence Co-operation Treaty in November 2010, it was not expected that the opportunity would present itself quite so quickly to be able to practically demonstrate the two nations' armed forces working more closely together, as a way of improving collective defence capability.
Royal Navy and Marine nationale ships have been involved in operations off Libya since the start of the operation earlier this year.
In particular, there has been close coordination on attack helicopter maritime strike missions, and both HMS Ocean and Mistral have each embedded a liaison officer onboard the other.
There have also been a number of visits between the Command teams in order to further understand how the other operates, further contributing to the aim of having, by the early 2020s, the ability to deploy an integrated British-French carrier strike group, incorporating assets from both countries.
Since having been allocated to the mission in late June 2011, HMS Ocean has had several intensive periods at sea, launching embarked Apache Attack Helicopters from 656 Squadron Army Air Corps into Libya in support of the NATO-led operation.
The Apaches have been ably assisted by other helicopters embarked on HMS Ocean, namely Sea King Mk 7s of 857 Naval Air Squadron, providing maritime surveillance, and Lynx Mk 7s of 847 Naval Air Squadron, providing force protection and logistic support. Together, the Apaches and Sea King Mk7s have flown a significant number of operational sorties.
Since leaving the UK in late April 2011, HMS Ocean has conducted over 2,000 deck landings by both embarked and visiting aircraft. This has included French Pumas flying from the aircraft carrier Charles de Gaulle, as well as both the amphibious ships Le Tonnerre and Mistral.
HMS Ocean left the UK in April 2011 as part of the UK's Response Force Task Group to conduct a series of pre-planned amphibious exercises in the Mediterranean, known as Cougar 11.
With the escalating events in Libya, the UK Government took the opportunity in May 2011 to re-task one of the most flexible ships in the Royal Navy's inventory, and ordered HMS Ocean to support the enforcement of UNSCR 1973.
In addition to HMS Ocean, the other Royal Navy and Royal Fleet Auxiliary ships taking part in this operation currently comprise destroyer HMS Liverpool, mine countermeasures vessel HMS Bangor, and support ship RFA Fort Rosalie.
The Co-operation Treaty between the UK and France was drawn up to build upon commitments made in last year's Strategic Defence and Security Review to create stronger strategic defence relationships with our main allies whose security interests and military capabilities are closest to our own.
Published 19 September 2011