UK and France open "new chapter" on defence cooperation
Prime Minister David Cameron said the UK and France have opened a "new chapter" in defence and security cooperation as the two countries signed treaties pledging to work more closely together.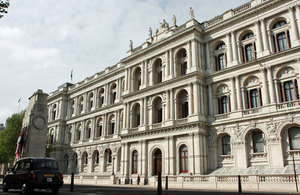 Mr Cameron said the move, agreed at the UK-France Summit in London today, would make British people safer and better protected in an "age of uncertainty".
Under the agreement, aircraft carriers will be adapted to enable both countries to use them and a Combined Joint Expeditionary Force will be formed. There will also be further cooperation in areas such as nuclear safety, cyber security and international security.
The Prime Minister said:
"Britain and France have a shared history through two World Wars. Our brave troops are fighting together every day in Afghanistan. But let me finish by saying this is a treaty based on pragmatism, not just sentiment.
"I would like to thank Nicolas for joining me in taking these bold and important steps which I believe will make our sovereign nations safer."
President Sarkozy said:
"This is a decision which is unprecedented and shows a level of trust and confidence between our two nations which is unequalled in history."
They added that their countries would remain sovereign nations able to deploy their armed forces independently.
The UK and France also committed to continue working together to fight illegal immigration and trafficking.
Read the Declaration on Defence and Security Cooperation
Read the Declaration on Immigration
Published 2 November 2010