UK and Colombia agree joint declaration on human rights
Prime Minister David Cameron met Colombian President Juan Manuel Santos in London on 21 November.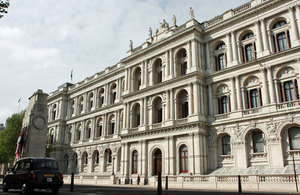 The UK and Colombia issued a joint declaration on human rights:
"The Governments of the United Kingdom and Colombia reaffirm their shared commitment to respect, protect, and promote human rights. We reaffirm our commitment to uphold the human rights treaties and agreements we are signatories to, in particular the Universal Declaration of Human Rights, and the International Covenants on Civil and Political Rights and Economic, Social and Cultural Rights. Cooperation on human rights issues remains a key part of our relationship, including joint projects in Colombia. We hold regular discussions of progress and challenges, including at the six monthly EU - Colombia Human Rights Dialogue.
There is strong cooperation between the UK and Colombia on international human rights issues. In relation to the Arab Spring, we recognise that people in the Middle East have used their rights to freedom of expression, assembly and peaceful protest to make their voices heard. We believe that the legitimate demands of the people must be recognised; they have a right to liberty, dignity and to choose freely their own leaders.
President Juan Manuel Santos Calderon has promoted a wide-ranging reform programme and has committed to develop a national human rights policy, working with civil society and the International Community.
Colombia's Victims and Land Restitution Law is a significant piece of legislation which has been commended by the UN. The UK is sharing technical expertise with the Government of Colombia to help implement the law.
Significant challenges inevitably remain as Colombia addresses the legacy of over 50 years of armed conflict. We recognise the importance of fairly addressing grievances and the root causes of conflict. Both Governments are committed to acting on lessons learnt and to tackling impunity. For example, the Colombian Attorney-General is providing extra prosecutors for the National Human Rights and International Humanitarian Law Unit. We agree to continue to hold regular discussions on impunity and other human rights issues to determine what further assistance the UK could provide.
We emphasise our firm support for the legitimate and important contribution of human rights defenders. We condemn violence and threats and other forms of harassment against these individuals. We recognise the importance of the new directive for the security of human rights defenders being developed by the Colombian Ministry of the Interior. As we deepen commercial links between the UK and Colombia we acknowledge the importance of working with the private sector on human rights issues. We are committed to implementing the UN Guiding Principles on Business and Human Rights.
Our countries are at the forefront of this debate globally. The UK is supporting a project in Colombia which will set out how the principles could be implemented in the Colombian context.
We recognise the important role of the UN human rights agencies and procedures in strengthening national institutions and capacities, which is reflected in our countries' acceptance of a standing invitation to all UN human rights thematic procedures. As the Universal Periodic Review (UPR) enters into its second cycle we are pleased to see indications that the system is working well, allowing serious considerations of human rights developments in countries under review and a large number of recommendations accepted by UN members. As the UK and Colombia prepare for their second reviews we will reflect on progress made against the recommendations from the first cycle and take steps to reaffirm our commitments. We call on all countries to support the work of UN agencies and the UPR system as a mechanism to uphold the rights of people worldwide."
Published 21 November 2011